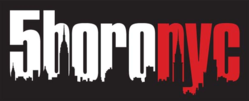 These boards are great for cruising around the City and the shirts look fresh!
(PRWEB) July 16, 2012
5Boro is a skateboard company located in the heart of New York City. They have been around since 1996 and are still going strong. New at Pure Board Shop are the 5Boro cruisers and tee shirts. The cruisers are feature a classic shape with a huge nose and tail and a short wheelbase perfect for dodging pedestrians and cruising down sidewalks deep in the city. The boards feature a very unique graphic. They look like cigarette cartons! Everything from Marlboro to Newport with the 5Boro name can be found on the bottoms of these decks. The T-Shirts are just as sweet as the cruisers. They have really simple graphics that look great and feel great too.
Pure Board Shop opened its doors on May of 2005. Its ease of access and parking make it a destination shop for riders and urban street ware fans alike. With their mix of products and variety in skate, snow, surf and exclusive streetwear and shoe brands Pure's customers extend far beyond their Annapolis location. Pure prides itself on making customer service its number one priority, with product knowledge and having the right product mix a close second. The store and the website feature an ever growing brand inventory such as Nike SB, Nike Snowboarding, Adidas Skateboarding, Vans, Diamond, HUF, LRG, RVCA and The Hundreds. The shop also prides itself on having the largest variety of longboard equipment in the area; with brands like Land Yachtz, Rayne, Caliber, Cult Wheels, Abec11 and many more. Pure puts on monthly skateboard jams/events in their local skateboard park as well as sponsors many longboard slide jams in the DC Metro Area.
Contact Pure at 410-267-7669 or visit them on the web at pureboardshop.com