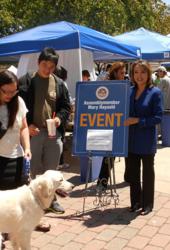 It was great to see so many people out with their pets, taking the time to ensure that they are healthy and to learn about animal welfare issues.--Assemblymember Mary Hayashi
Hayward, CA (PRWEB) July 15, 2012
Pet owners brought over 400 animals, including dogs, cats, rabbits, and two tiny turtles to Assemblymember Mary Hayashi's free Pet Health and Safety Fair yesterday at the Hayward City Hall grounds. The public was invited to bring their pets for free health screenings and to hear important health and safety tips from animal experts.
"I would like to thank the Alameda County Veterinary Medical Association, the Hayward Fire Department, the Hayward Animal Shelter and the East Bay SPCA for making this event a huge success," stated Assemblymember Mary Hayashi. "It was great to see so many people out with their pets, taking the time to ensure that they are healthy and to learn about animal welfare issues."
The Hayward Animal Shelter was on hand to promote pet adoptions and educate the public about spaying and neutering. The Humane Society reports that six to eight million cats and dogs enter shelters each year, a number that can be drastically reduced by having pets fixed.
For more information about low-cost spay/neuter services, please call the Hayward Animal Shelter at (510) 293-7200 or the East Bay SPCA at (510) 639-7387 (Oakland office) or (925) 479-9674 (Dublin office).
Assemblymember Hayashi is the Chair of the Business, Professions, and Consumer Protection Committee and serves the 18th Assembly District, which includes San Leandro, Hayward, Dublin, most of Castro Valley and Pleasanton, and a portion of Oakland, as well as the unincorporated areas of Ashland, Cherryland, San Lorenzo and Sunol.
# # #