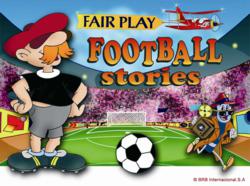 Woodland Hills, CA/Madrid, Spain (PRWEB) July 16, 2012
Online kids channel Toon Goggles (http://www.toongoggles.com), the innovative free portal that provides valuable viewing data to content providers and a cache of children's programming on the Toon Googles entertainment portal, is expanding its library of content adding a series of animated programs from Spain's BRB Internacional for the US and Canada, the animation will debut on Toon Goggles in forthcoming weeks on its 'New Toon Tuesday' - where the latest animation on Toon Goggles can be discovered every Tuesday. The announcement was made by Jordan Warkol, Toon Goggles, Marketing Director, US and Canada.
"We are very proud that Toon Goggles will be able to offer BRB Internacional's library of fantastic cartoons to the young viewers on Toon Goggles," said Warkol. "Like Toon Goggles, BRB continues to offer new and quality programming across multiple platforms. We are happy to welcome them as our newest content partner."
This newest agreement will provide Toon Goggles viewer's with a new slate of programs from the international Spanish producer, including: Gladiator Academy, Super Models, Football Stories, Angus & Cheryl, Suckers, The Mozart Band, Sandokan, and two TV features entitled Music For Your Eyes (1 x 75 min) and Willy Fog: In Journey To the Center of the Earth (1 x 75 min.)
Launched in 2011, ToonGoggles.com is a free portal where children can enjoy an ever growing library of entertaining programming that is pre-screened and determined to be safe and age appropriate for children under the age of 13. Hundreds of content producers from around the globe are currently supplying animated features, programs, series, clips and trailers to Toon Goggles' rich library that children can enjoy and parents can feel good about.
MEDIA CONTACTS:
Toon Goggles: RPIPR: Sabrina Propper ▪ spropper(dot)rpipr(at)gmail.com ▪ 818.515.5798
John Russel ▪ jrussel(at)russelprla(dot)com ▪ 818.561.5072
About Toon Goggles
ToonGoggles.com is a safe and protected children's entertainment online channel offering a vast amount of child and parent friendly cartoons (clips, trailers, episodes, games and features) for FREE. Toon Goggles is fully COPPA-compliant (Children Online Privacy Protection Act), boasting a strictly enforced screening process to ensure that all content presented is clean, safe and age appropriate. Our site is also available on all smart phones and tablet computers for viewing anywhere, at any time.
We feel that children should be able to view cartoons based off their own likes and interests. We make it simple for them with six different category offerings and an easy keyword search box. At Toon Goggles, children can create their own Facepage and add their favorite cartoons to their Toonstrip for future viewing. We want children to be in charge of their viewing experience and watch the content they want, when they want and where they want. As such, we encourage parents to review Toon Goggles and participate in their children's viewing and browsing experience.
In June 2012, Toon Goggles signed with Panasonic to become one of the key applications delivering content for children on Panasonic HDTV's VIERA Connect™ platform.
Toon Goggles iOS app is available for download in the iTunes App Store. Link to download the Toon Goggles iOS App: http://itunes.apple.com/app/toon-goggles-cartoons-for/id491158457?mt=8
About BRB Internacional:
An international company, founded in Spain, with 40 years experience in the production, distribution and licensing of high quality television programmes. BRB's animated series have been seen around the world, and characters such as David the Gnome, Dogtanian and Willy Fog are widely recognized as classics. Currently BRB is producing innovative and branded series through the development of its Catalan studio Screen 21 using the latest techniques in design, 3D stereoscopic and CG technology – including such successful brands like Bernard, Suckers, Canimals, Kambu and Zoobabu. In the field of licensing, the company manages aside of all BRB's titles an impressive catalogue which includes the Cartoon Network's properties for Spain and Portugal (GeneratorRex, Foster's, Ben 10, Bakugan, ...) or the PlayStation IPs LittleBigPlanet™, EyePet™, Invizimals™ and SingStar™ in Spain and Portugal. For more information: brb.es, youtube.com/BRBInternacional, facebook.com/BRBInternacional, twitter.com/BRBInt