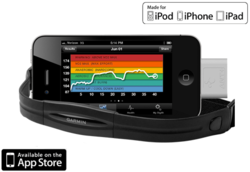 "Part of being healthy is 'knowing your numbers' and many people have no idea how fit they are. An assessment takes a lot of the guess work out and helps set a realistic baseline to build upon," says Dean Hovey, CEO and president of Digifit.
Santa Barbara, CA (PRWEB) July 16, 2012
Digifit®, the original heart-rate monitoring app, launched a series of fitness assessments within their suite of fitness-tracking apps for the iPhone, iPad and iPod Touch. These assessments determine individual fitness level and set personalized heart-rate zones so users can be smart and safe in targeting their exercise practice. The highly personalized feedback also allows users to measure progress so they know if their current exercise program is working and the results can be the basis for creating targeted workout plans designed to meet specific goals, whether that be weight loss or improved performance. Though most fitness assessments are conducted by a Metabolic Assessment Lab or by a technician for $200, Digifit users can now obtain similar performance measurements using their smartphone with a simple in-app upgrade, starting at just $3.99*.
Digifit's fitness assessments were developed by experts and include a range of tests for beginners to advanced athletes including: Beginner Cardio, Rockport Walking Test, Advanced Cardio, Cooper Running Test and CP30 Assessments. Beginner assessments such as the Rockport Walking Test, establish a baseline of fitness, important for choosing an appropriate level to kick-off an exercise program. The more advanced tests, such as the Critical Power 30 Minute (CP30) assessments, establish accurate low-end lactate thresholds used to calculate personalized heart-rate training zones. This helps users train at the right intensity to achieve their fitness goals. The assessments can be completed with a variety of activity types, including running, walking, cycling, Spin®, or even custom cardio activities like elliptical.
"Part of being healthy is knowing your numbers and many people have no idea how fit they are. An assessment takes a lot of the guessing out and helps set a realistic baseline to build upon," says Dean Hovey, CEO and president of Digifit. "Fitness assessments provide personalized information to let individuals track their progress and make appropriate adjustments to their workout regimen to get the results they are seeking."
Fitness assessments are important in predicting max heart rate and VO2 max, which are used to calculate personalized heart-rate zones. Knowing which zones to work out in and for how long within a multi week plan is crucial to achieving specific goals like fat loss or improved performance. A large number of people set heart rate zones for training by using the standard formula, 220-Age = Max HR. This formula however uses very generalized numbers which does not take into account personal health metrics nor current fitness level. For more accurate figures it is necessary to take a customized fitness assessment.
"We have taken what once was a generic rule of thumb and made it very personal," says Hovey. "It's like having your own personal trainer on call; not only do you get coached with a trainers voice through many of the individual assessments, your personal zones are reset to help you identify the levels of workout intensity you need to reach your goals, whatever they are."
"I myself used the assessments just after my last birthday in preparation for running the Santa Barbara Wine Country Half-Marathon," continued Dean. "It revealed my current fitness status and determined the level of effort my body could maintain during the race without bonking so that I could run close to a PR safely. This allowed me to manage the race to that level of effort. The assessments made it a much better experience."
The fitness assessments seamlessly synchronize with Digifit's fully-featured online website, My.Digifit.com, where users view their results and improvements over time, create personalized profiles, store, review and compare past workouts. Exercise data and patterns are viewable in conjunction with other important biometrics such as weight, blood pressure and sleep.
*Fitness Assessments are available for $3.99 via in-app upgrade within Digifit's suite of free apps including iCardio, iRunner and iBiker. Additional costs may apply for hardware and sensors as well as heart rate tracking capability within the app. Download today to start living a healthier life.
About Digifit
Digifit offers truly engaging health and fitness solutions using sensors and wearable technology integrated with mobile devices and the cloud so users can track activities anywhere, indoors or out, with a focus on heart rate training and monitoring. Founded in Santa Barbara, Digifit was the first app developer to bring heart-rate monitoring to the iPhone, and is dedicated to developing innovative applications, grounded in science and powered by technology, to help people develop healthy habits and lead healthier, happier and longer lives. For more information, visit http://www.digifit.com.
Media contact:
Kelly Lazarus
805-689-3224
press(at)digifit.com