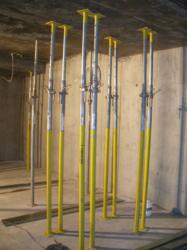 Largest Range Of Acrow Props
Williamstown Victoria (PRWEB) July 17, 2012
Steven Preston, of Preston Hire announced today that the company has taken delivery of more Acrow Props, which now gives them the largest propping range in the Melbourne area, allowing the organisation to improve the safety on construction sites and help with efficiency.
The company is the largest supplier in Melbourne for Acrow Props and they have been safety approved so they are ready for immediate hire. The company's main focus is to improve a construction site's safety and the propping is what delivers this to help reduce the number of injuries that could potentially be dangerous. The props help support structures and can also be used if loads need transferring. The company offers a wide range of props including Superprops, Peri props, and the Acrow props that are designated for the specific project and site.
Preston Hire is able to offer lower prices on their propping range due to the fact that they provide such a large number of sites a variety props and the company also maintains that they pride themselves on the best quality. This clearly puts the the company in the lead over any others in the region, so the news today was quite exciting for the entire company. The supplier was thrilled that it became official that they are the largest in the Melbourne and has been reeling in the afterglow of the fabulous news it received.
Of further interest, Preston Hire has been attracting a lot of attention in recent years for its stellar service, which has placed a huge demand on the company and trying to keep up with demand was not easy but with the new delivery of props, they are going full steam ahead and company officials report that they are ready to take on both large and small clients.
In addition to site propping, Preston Hire also offers other solutions in the construction industry including Superdecks, Formwork, Rubbish Chutes, Walkways, Gantries, and Bridges. Steven Preston says the company prides itself on reduction in construction time due to their unique approach to each individual construction site and project. Their slogan is "Preston Hire Intelligent Building Solutions" and they have certainly lived up to this with the latest news they have shared.
Preston Hire is an Australian based company of which is solely operates on a variety of construction site. While the company had humble beginnings, they quickly gained a reputation for customer service and being able to meet the needs of each client. This allowed them to expand and include other products to customers due to their reputation word began spreading and customers kept calling for their expertise. Today, they have reached yet another milestone and will continue to strive to be the very best at what they do and work one on one with each customer since this is what brought about the latest news.