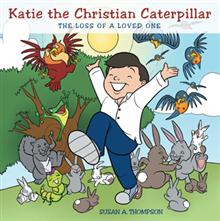 Katie the Christian Caterpillar brings hope of a new life, eternal life in a beautiful place called Heaven
WHITNEY, Texas (PRWEB) July 17, 2012
Susan A. Thompson's new illustrated children's book "Katie the Christian Caterpillar: The Loss of a Loved One" (published by Inspiring Voices) uses Christian values to teach children how to cope with loss after the death of a family member.
David Stamey, a young boy, and Katie the Christian Caterpillar, who lives in the old oak tree outside of David's window, are very good friends. As a Christian, Katie has helped David learn a lot about life, God's love, and a place called heaven. Today, however, David has a very serious problem. His grandfather has died, and David doesn't really understand what that means. It's up to his good friend, Katie, to help him understand God's promise for death and what that means for his grandfather.
An excerpt from "Katie the Christian Caterpillar ":
"David said, 'Oh Katie! You really think so? Do you really think so Katie?' Katie snuggled up to David's ear and said. 'I don't think so, I know so. We will all end up in heaven to live happy forever with our families.'
David felt so much better. He knew he would miss his grandfather, but he believed that one day he too would fly up to heaven and live happy forever with his family."
"'Katie the Christian Caterpillar'" brings hope of a new life, eternal life in a beautiful place called Heaven," says Thompson.
About the Author
Susan A. Thompson was born in Dallas. In 1996 she experienced a spiritual awakening and started teaching children's church, which is where she developed Katie the Christian Caterpillar. She is the mother of three daughters and grandmother to five boys. She lives in Whitney, Texas, with her husband, Charlie.
Thompson is currently working on four additional Katie the Christian Caterpillar books.
Inspiring Voices, a service of Guideposts, is dedicated to helping authors share their words of hope, faith and inspiration with the world. A strategic publishing partnership with indie book publishing leader, Author Solutions, Inc.; Inspiring Voices allows authors to publish inspirational and spiritual books without respect to their specific doctrine, denomination or political point-of-view. Authors published through Inspiring Voices benefit from access to exclusive Guideposts marketing services, with select titles appearing in a special collection at Guideposts.org. For more information on publishing with Inspiring Voices, log on to inspiringvoices.com or call 866-697-5313.
###