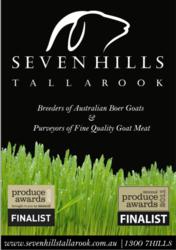 It's a great honour to be recognised for all our hard work
Tallarook, Victoria (PRWEB) July 17, 2012
The 'delicious. Produce Awards' showcase some of Australia's finest producers all the while building awareness of culinary regions, and recognising the importance of sustainable farming and production processes.
The delicious. Produce Awards have been operating for 7 years now, and look to discover and acknowledge those who are committed to sustainable farming, and producing high quality produce in Australia. The Produce Awards cater for a wide range of Australian producers, with 4 different categories aimed to capture the different types of producers in Australia. The categories include:

From the Dairy (Cheese, Milk, Curd, Cream)
From the Earth (Fruit, Vegetables, Grain)
From the Paddock (Goat, Beef, Pork)
From the Sea (Fish, Shellfish)
Seven Hills Tallarook, a commercial meat goat farm, has been nominated as a finalist for its third year in a row. Established in 2007, originally on 600 acres, Seven Hills Tallarook is now spread over two properties and 620 acres, with more than 2000 Australian Boer Goats in their herds. Seven Hills Tallarook work closely with 33 other Farmers/Growers under an "alliance program", which helps cater for restaurants and chefs looking for a consistent supply of produce.
Owners of Seven Hills Tallarook, Taylan and Megan Atar, are ecstatic to be nominated for the third year in a row. "It's a great honour to be recognised for all our hard work, delivering high quality goat meat, and practicing sustainable farming" says director Taylan Atar. "We've made the finals for a few years now, and it would be great to take first prize this year". Atar admits that it is a very tough industry, and there are a lot of worthy winners of this year's award.
"Our Goat Meat is high quality, and is very popular amongst many restaurants in Victoria, and other Australian states". The Seven Hills Tallarook method of raising goats allows for a high quality product, that tastes great.
The winner for the delicious. Produce Awards will be announced on the 16th of July, at an award ceremony in Brisbane.
About Seven Hills Tallarook
Seven Hills Tallarook use sustainable energy to produce their own electricity harnessing wind and solar power. Their pristine water comes from captured rainwater, underground bores and natural river systems. The animals roam freely in 20 to 40 acre paddocks.
Each paddock is equipped with shelter to protect the animals from the elements. They are fed a rich diet of Pellets which are readily available on demand and are hand fed fresh fodder 3 times a week that is delicately sprouted in our own fodder factory.
Seven Hills Tallarook's key strengths lie in the ability to produce their own product from "paddock to plate". They guarantee both quality and consistency without compromise. They recognise that the biggest concern in the foodservice Industry is supply and consistency and that customers want to be reassured that their goat meat supplier provides a product that is of the same quality and standard every time.