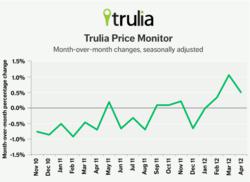 Adjusted for inflation, the true bottom of the San Diego real estate market occurred in December and January of this year.
San Diego, CA (PRWEB) July 16, 2012
The real estate market in San Diego is continuing its slow recovery, which is evidenced by a two percent increase in recent sales prices. The Case-Shiller index shows prices trending upward through April this year in medium and high range homes. More recently, increased activity in low to moderate priced home sales is causing a slight price rise in some neighborhoods. This trend largely reflects excitement about perceived bargains on bank owned and other distressed properties. All in all, it is still a great time to buy a home in San Diego.
Housing stock is quite thin which contributes to the upward trend in prices. As of June 1, 2012, there were only 1,741 properties on the market compared to 3,951 properties a year ago. Only 5 percent of the current available stock is distressed, while 12 percent was distressed one year earlier. Some properties under $500,000 are receiving multiple offers, driving up final sales price. Short sales and foreclosures are leading the multiple bid numbers.
In spite of limited stock, some realtors report regular listings are lagging behind in sales success, particularly on high-priced properties. With continued strict mortgage qualifications still in place, there is limited demand for homes over $800 thousand. Successful sellers in the high end market are generally those amenable to negotiation on prices.
Adjusted for inflation, the true bottom of the San Diego real estate market occurred in December and January of this year. Six months ago, 14 percent of listed properties were distressed with a median list price of $375 thousand. Price per square foot bottomed out at a median price of $257 per square foot. Since that time, all indicators including square foot price, percent distressed properties, list price and days on the market have all trended positively.
Although interest rates are still very low, mortgage lenders are demanding strict adherence to income and documentation rules. As a result, obtaining a mortgage under current stringent banking rules is a challenge for many potential homeowners. While documented income may be a good thing long-term for the San Diego real estate industry, it may be holding the market back somewhat from a full rapid recovery. Take advantage while you can and begin the search for your dream home at a bargain price.
Whether you are a current homeowner in the San Diego area or a prospective buyer, Dry Express Restoration is always here to help in case of a home emergency. We provide restoration cleanup and construction services for fire damage, smoke damage, water damage, flood dryouts, and mold removal, and are available 24/7 in case of an emergency.