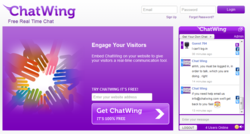 Boston, MA (PRWEB) July 16, 2012
Chatting through websites is now considered as a common activity in the Internet today. In fact, many bloggers and web surfers are always looking for chances to communicate with large groups of people. This fact became a universal template for the Chatwing team, allowing them to launch a global chat box capable of providing communication leverage for many people. The Chatwing widget may be a simple application, but it is versatile and can be installed easily.
Chatwing's versatility can be measured through the topics and discussions that it can offer to users. Basically, Chatwing users can discuss various topics such as trends, blogging tips, dating, humor, fashion, and even the latest news about Hollywood. The Chatwing team has also noted that hobbyists are using the shout box to find new friends and gather tips for their craft. Lately, a large percentage of online marketers have been using the Chatwing application as a 'chat extension' for their target audiences. Now, people can inquire in real-time, rather than wait for blog comments and admin replies. The Chatwing chat tool has also a user capacity of 600, allowing more users to join the discussion. However, the team is planning to upgrade it to 1000. In this way, many people will be able to socially connect with each other.
Chatwing also allows a user to customize the shoutbox according to his own preferences. The user can change the color of the widget by adjusting simple sliders. Adding to that, he can also choose to rename the widget so that it will be synchronized properly with his blog. The user can also adjust the height and width. After the customization process, the user can now retrieve the HTML code and embed it to his blog or website. Seconds after embedding, the chat widget will go live and start attracting visitors in a continuous basis.
The Chatwing team's primary goal is to empower the premise of website chat—not only for bloggers—but for everyone as well. Chatwing developers believe that communication through websites is inevitable, as many people are now seeking information across the Internet. To keep this goal intact for many months, the Chatwing team is always ready to hear out the concerns of their users. Adding to that, the team will also introduce new upgrades and developments to keep the chat platform as stable as possible.
About Chatwing.com
Chatwing.com specializes in the new field of website chat. Over years, the Chatwing team has introduced live chat software for hundreds and thousands of blogs. The Chatwing application bridges people from many parts of the world, creating global synergy through the Internet. The shout box can be installed in just seconds, and it can be used for varying purposes such as leisure and Internet marketing. It also allows a user to customize the size, color, and name of the widget. Chatwing is 100% free for everyone.