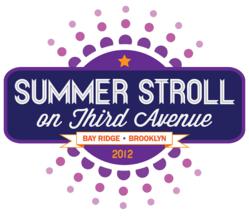 We wrote the program...unique to (our) community
Brooklyn, NY (PRWEB) July 16, 2012
New York Real Estate Attorney Robert Howe recently welcomed local politicians to his show Howe's New York to discuss the impact and importance of the upcoming Summer Stroll on the local community and economy.
Last week listeners tuned in to hear New York State Senator Martin Golden on Howe's New York where Senator Golden remarked that "Summer Stroll will help fortify our businesses."
Summer Stroll, a 4 night event taking place in the community of Bay Ridge in Brooklyn, NY, will kick off this Friday night, July 20, from 6:00 PM to 10:30 PM. Subsequent nights will be July 27, August 10 and August 17. The outdoor "palazzo" will feature local restaurants and small businesses setting up shop in the streets along with singers, magicians, dancers, and various other performers. It is based on the New York Department of Transportation Summer Streets program which closes streets in the city so people can run, walk, bike, and play The Summer Stroll program is slightly different in that it is taking place at night and will feature a more festival like atmosphere.
"We wrote the program...unique to (our) community," said Senator Golden. "(It will be) a totally different type of event."
Senator Golden is one of the presenters of the event and garnered much help from his fellow Brooklyn community leader , New York City Councilman Vincent Gentile who also appeared on Howe's New York to talk about Summer Stroll. Councilman Gentile also noted the importance of stimulating the local economy in efforts to improve the community. He also singled out one demographic who may benefit the most from Summer Stroll: kids. His office will be sponsoring "...a magician..." performing right out on the street during Summer Stroll.
One of the goals, according to Senator Golden is to showcase Bay Ridge for all other neighborhoods and communities by allowing the community to "Bring that culture...open space...good old home town."
Robert Howe is the president of the Merchants of 3rd Avenue. Founded in 1933, the Merchants of Third Avenue Civic Improvement Association covers the commercial corridor of Third Avenue in Bay Ridge, Brooklyn from 65th to 101st Street. The non-profit organization boasts over 300 businesses employing over one thousand people over it's 36 block strip.
Robert Howe also hosts the weekly online radio show Howe's New York focusing on local real estate, small business, and community events. He can be found on Facebook and Twitter @RobertHowePC.