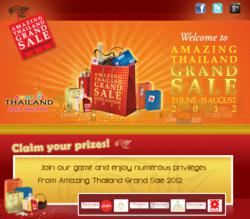 (PRWEB) July 16, 2012
Both Thai and foreign travelers can claim their rights of winning the 350,000-Baht prizes by just participating in a variety of activities with Sukjai every week. This year the campaign highlights on traveling experience in Thailand. All activities are accessible weekly at http://thailandgrandsale.tourismthailand.org/ for all kinds of participants. Each activity and prize are subject to the terms and conditions set by TAT.
The prizes gathered by TAT are for instance domestic and international air tickets, room packages from leading hotels and resorts in Thailand, show tickets, and Thai souvenirs. Those interested are cordially invited to join the activities on the Amazing Thailand Grand Sale 2012 website from now until August 15, 2012. The winner announcements will be made weekly after each activity ends.
All activities and winner announcements with Sukjai in Amazing Thailand Grand Sale 2012 will be promoted on the TAT's main site http://www.tourismthailand.org/, and the campaign webpage http://thailandgrandsale.tourismthailand.org/ as well as on the TAT's partners' sites and TAT's social network channels such as Facebook and Twitter. These exercises are anticipated to improve the country's image on tourism and encourage purchasing activities from prospective tourists.