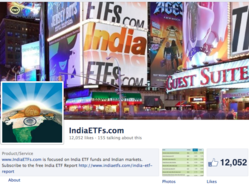 Social media is helping IndiaETFs.com become a global resource for ETF information.
Chicago, IL (PRWEB) July 16, 2012
Leading India ETF site, IndiaETFs.com, began in the fall of 2011 as a convenient resource on India ETFs and the markets they track. Part of that convenience meant an intentional embrace of social media from day one. Close to nine months later, the IndiaETFs Facebook page has over 12,000 fans and counting. The page delivers all the articles and charts from the site to users that receive much of their information through Facebook.
"There is a powerful opportunity to deliver investor focused content across social media channels like Facebook," said Christian Magoon, Publisher of several focused digital ETF properties. "The response we have received has been overwhelmingly positive. Investors who are active social media users want the option to connect and be informed via channels like Facebook. We feel privileged to be recognized by investors around the globe as a valued ETF resource."
IndiaETFs.com delivers focused Indian market and India ETF content through a variety of social media channels including Facebook, Twitter, YouTube and Google+. The website offers an expanded data set and tools for investors to compare all India ETF and ETN products listed in the U.S. marketplace.
IndiaETFs.com also produces a free weekly India ETF Report analyzing India and related ETF products. Subscribe by clicking here.
About IndiaETFs.com
IndiaETFs.com is an investor education site focused on India and the ETF products that are related to it. The site provides a complete India ETF list, performance comparison tools and real time insight on India through several Twitter feeds. Besides the website, users can access content on Facebook, YouTube and Google+. Follow @IndiaETFs on Twitter.
About Christian Magoon
Christian Magoon is Publisher of IndiaETFs.com and CEO of strategic consulting firm Magoon Capital. Having launched over 40 ETFs to date, Magoon is an ETF insider and innovator. His vision for IndiaETFs.com was to create a convenient, social and educational source of ETF information on the India ETF segment. Gold ETF site GoldETFs.biz is a sister property. Christian has been named an "ETF Pioneer" and was recently featured as "One of Five ETF Experts To Follow On Twitter." Follow @ChristianMagoon for regular investment and ETF insight.