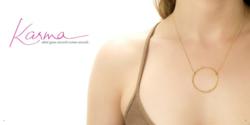 Dogeared was founded with the belief that beautiful jewels can be made with good karma, peaceful intentions and earth-friendly practices.
Los Angeles, CA (PRWEB) July 16, 2012
Dogeared Jewels & Gifts, a trendsetting fashion brand known for innovative designs and a cool California aesthetic, has announced its summer trade show schedule. The company will present their fall/winter collections to the trade, along with catalogs and line sheets. Holiday gift selections and special editions will be among the new designs offered to retailers.
View the entire Dogeared line at these select trade shows:
New York ENK Accessorie Circuit Show
Jacob Javits Convention Center
11th Avenue @ 37th Street
New York City
Booth #7736
August 5 - 7, 2012
LA Market
Kristi Harris Sales
Cooper Design Building
860 South Los Angeles
Suite #640
August 6 - 8, 2012
New York International Gift Fair
Jacob Javits Convention Center
11th Avenue @ 37th Street
Booth # 8101
August 19-22, 2012
Project Las Vegas
The Mandalay Bay Convention Center
Booth #7114
August 20 - 22, 2012
Dogeared, a Certified B Corporation has increased its commitment to decreasing its environmental footprint. All sterling charms are 100% recycled silver, and catalogs, cards, and packaging are printed on mixed sources. The company works with domestic suppliers and casters who share their environmental commitment, and all the jewelry and gifts are handmade in Dogeared's Southern California studios.
Dogeared Jewels & Gifts Designer Marcia Maizel-Clarke founded Dogeared Jewels & Gifts just over 20 years ago in Southern California. Originating word jewelry, she began creating beautiful pieces with the purpose of putting positive, peaceful, and loving energy into the world. This energy has always included being kind to the planet, handcrafting all the jewels and gifts in California, and working with non-profit organizations sharing a vision of a better world. Dogeared's unique, custom-cast jewels are regularly featured in fashion, lifestyle, and celebrity publications, in films and on television shows. Trendsetting retailers around the world, including Nordstrom, Neiman Marcus, Bloomingdale's, Fred Segal, and ABC Home, all carry Dogeared. Dogeared is a certified B Corporation. Please visit http://www.dogeared.com for Dogeared's online flagship store. For wholesale information, visit http://www.dogearedwholesale.com.