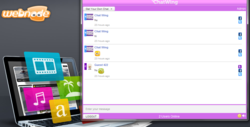 Tucson, AZ (PRWEB) July 17, 2012
The Chatwing team is now expanding to the Webnode community by introducing a reliable chat box that can help bloggers attain online visibility. This chat tool has also been introduced in different blogging communities and forums. Online entrepreneurs have also used the Chatwing tool as an extension of customer service for their online businesses. Because of Chatwing's versatility, it has been climbing the ladder of online ranks.
One of the features that have boosted Chatwing's rank is the social media integration feature. Through this option, Chatwing users were able to log in with their Facebook or Twitter accounts. This has been proven useful for people who want to expand their social networks. According to the research of the Chatwing team, Facebook group makers have relied on the shoutbox when it comes to their soft marketing processes. Bloggers in Webnode can rely on the communication leverage offered by Chatwing when it comes to accruing popularity.
Despite several offers to make the Chatwing shout box under the paid business model, the dev team has decided to stay on the freemium level. With this, the Chatwing tool has gathered many signups day by day. To deal with such influx, the dev team has introduced different platform upgrades. In the latest version of the Chatwing free shoutbox, the user capacity is set at around 600. However, the team is planning to upgrade it to 1000. In this way, many users will be able to join discussions in any Chatwing chat app.
The Chatwing team will continue pursuing their efforts in the development of the Chatwing chatbox. In this way, people will be able to enjoy uninterrupted streams of communication. Bloggers will be able to interact with their visitors at a high global rate, and many blogs will appear in the radar, rather than be tagged as inactive.
About Chatwing.com
Chatwing.com has developed live chat software for websites and blogs. It caters to different online communities due to its high rate of connectivity. Everyone can create a customizable live free chat box in 1 minute or less. Users have the ability to customize the size, color, and fonts of the chat product. The ability to chat via social media accounts such as Facebook and Twitter enable Chatwing to offer a personal and unique real-time experience to all sites. Chatwing is 100% free and very easy to use.