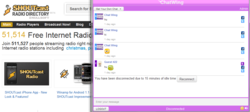 Salt Lake City, UT (PRWEB) July 17, 2012
Salt Lake City, UT – The Chatwing team is now upping the standards of communication leverage by releasing a global chat box in the podcasting community. This chat tool has a very simple user interface, winning the hearts of many bloggers and web surfers. For podcast listeners, the Chatwing chat tool is an instant and easy way to communicate with other people. It can also bring a continuous flow of visibility to many podcast blogs.
Chatwing has numerous features that have contributed to its recent online rank. One of these features is social media integration. Through this, Chatwing users will now be able to log in with their Facebook or Twitter accounts. This is useful for people who are looking for more friends and acquaintances. Adding to that, the Chatwing shoutbox has a large user capacity of 600. In the coming months, the dev team is planning to upgrade it to 1000 so that many users will be able to communicate with each other.
Podcasting is still a very common activity in the Internet today, based on the research of the Chatwing team. The expansion in the podcasting community has started about a month ago, and the Chatwing chatbox is gathering mostly positive reviews. To reach more people, the Chatwing team is doing several inquiries and continuing their platform checks. Adding to that, the team promises to add several features that can make the Chatwing tool more efficient than ever.
The Chatwing chat widget team is dedicated to the betterment of the podcasting community. This can be done by emphasizing the niche of website chat and creating avenues of communication for everyone. In the coming months, the team is expected to expand in other online communities. The team also maintains a Facebook page that has much information about Chatwing's free shoutbox.
About Chatwing.com
Chatwing.com has developed live chatbox software for websites and blogs. It caters to different online communities due to its high rate of connectivity. Everyone can create a customizable live chat box feature in 1 minute or less. Users have the ability to customize the size, color, and fonts of the chat product. The ability to chat via social media accounts such as Facebook and Twitter enable Chatwing to offer a personal and unique real-time experience to all sites. Chatwing is 100% free and very easy to use.