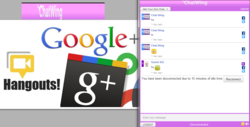 Burlington, VT (PRWEB) July 17, 2012
Aficionados of Google Hangouts will now have another stream of communication with the help of the Chatwing shout box. This chat tool is known for its stable global connection, and simple user interface that can be understood by everyone. Anyone can rely on the Chatwing tool when it comes to global communication—that is why many bloggers and Internet marketers have started using it for different purposes. Simply put, Chatwing is a tool that can provide real-time interaction process for everyone.
When the Chatwing team has decided to advance to the Google Hangouts community, the developers conducted persistent platform tweaks. This is to ensure that the Chatwing shoutbox will be 100% functional. According to the research of the Chatwing team, Google Hangouts is a large market that can be tapped given the right leverage. For the developers, Google Hangouts is the opportunity, and Chatwing is the leverage.
The Chatwing chat box was once a speck in the face of online widget competition. Now, it is a growing power that has been helping a lot of bloggers and web surfers. A month ago, Google+ users have also used Chatwing to find new friends to be added to their circles. Facebook users were commonly seen in the Chatwing app, especially those who are finding members for their groups and likes for their pages. Today, many people consider Chatwing as a free shout box that can be used for universal purposes, especially those ones that are related to blogging and web communication.
To make the web chat tool more universal than ever, the Chatwing team is planning to conduct several expansions in other online communities. In this way, the chatbox will be able to reach more people, offering an uninterrupted flow of communication leverage. To cope with the projected influx, the team will conduct several application upgrades.
About Chatwing.com
Chatwing.com has developed live chat software for websites and blogs. It caters to different online communities due to its high rate of connectivity. Everyone can create a customizable live chat box feature in 1 minute or less. Users have the ability to customize the size, color, and fonts of the chatbox product. The ability to chat live via social media accounts such as Facebook and Twitter enable Chatwing to offer a personal and unique real-time experience to all sites. Chatwing is 100% free and very easy to use.