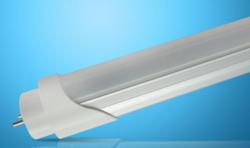 It makes a contribution to follow the growing trend of using solar and energy-saving products all over the world.
(PRWEB) July 16, 2012
Recently, Zhongtian Lighting Co., Ltd. ----a leading manufacturer of LED lights in China released its latest products T9 LED tubes series. It makes a contribution to follow the growing trend of using solar and energy-saving products all over the world.
Zhongtian Lighting's T9 LED tube series use the brand chips which have high quality, high color rendering index and no stroboflash, with frosted, translucent or striped PC cover. It is the ideal LED energy saving lamp due to its low power consumption, non-ultraviolet and infrared, low thermal radiation, high light efficiency and low attenuation. This model can reach up to 80% energy-saving rate, having a more stable performance and good coiling system. Its working time is more than 50000 hours, which is about 10 times than that of traditional incandescent lamps. T9 LED tubes series are low-carbon, and brighter than the similar ones in the market. This series covers different LED tubes of different size and power, which will meet the different needs of customers. It is widely used in schools, offices, hospitals, supermarkets and other places.
The advantages of this series are: firstly, it is green and environment-friendly, no harmful elements, such as mercury and lead. In addition, it can be reclamation and recycling of waste lamps. Its tube material is fragile aluminum and PC cover, with high light transmittance, good insulation properties, shock-proof, resistance to fall and transportation convenience. What's more it adopts SMD LED, with large viewing angle and 3 years' quality assurance and so on. The most competitive advantage of Zhongtian Lighting is attributed to its power supply and strict quality control system. Each LED tube has a unique corresponding power supply designed and produced itself and a qualified product can not be made until passed at least five inspections. At last, it has received the highly reorganization and praise from its big partners such as TCL, Lenovo, Haier, and Hisense etc.
Zhongtian Lighting offers the high quality and cost-effective products to customers, and they will benefit a lot from it. Using LED lights can not only lighten your house but also green the earth, your life will become better and better with the LED tube lights.