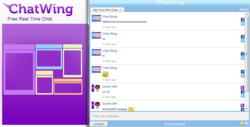 Portland, OR (PRWEB) July 18, 2012
The Chatwing team has recently expanded to the Blogspot community by introducing a free chat box that has simple user interface. This chat application has also been introduced in prominent blogging communities such as Wordpress and Livejournal. Online sellers have used the chat box for customer service inquiries that can be done in real time. In a general sense, Chatwing provides a stable avenue of communication for bloggers and web surfers.
The Chatwing shoutbox has been preferred by many bloggers because of its notable features. One of the most famous features of the Chatwing app is social network integration. Through this feature, Chatwing users can now log in with their Facebook or Twitter accounts. Realizing the importance of a customer service extension, the Chatwing team has briefly expanded to Blogspot. During the first wave of expansion, many online sellers have seen the clear importance of Chatwing shout box for their online businesses.
In order to create an effective web chat box tool, the Chatwing team has removed some previous features. This move has ensured the stability of the Chatwing platform for the months or years to come. The latest version of Chatwing chat app is about 75% faster and can even accommodate up to 600 users in real time. In few months, the dev team is planning to upgrade it to 1000. Adding to that, the installation process of the Chatwing widget has been simplified. The whole process now takes only seconds to accomplish.
To further empower the premise of a website chatbox, the Chatwing team is gathering the opinions and remarks of bloggers and web surfers across the Internet. The team is also dedicated in creating streams of communication in different online sectors. In this way, the Chatwing application will become a universal tool for any online purpose imaginable.
About Chatwing.com
Chatwing.com has developed live shoutbox software for websites and blogs. It caters to different online communities due to its high rate of connectivity. Everyone can create a customizable live chat box feature in 1 minute or less. Users have the ability to customize the size, color, and fonts of the chat product. The ability to chat via social media accounts such as Facebook and Twitter enable Chatwing to offer a personal and unique real-time experience to all sites. Chatwing is 100% free and very easy to use.