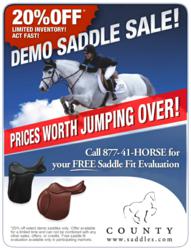 As one of the few saddlery companies in the world that make their own trees, County sets the industry standard in design and innovation
Lisbon, MD (PRWEB) July 18, 2012
As the London Olympic Games near, selection is complete for the U.S. show jumping and dressage teams, pending final approval of athlete-horse combinations. The show jumping team includes veterans Beezie Madden and McLain Ward, seeking their third-straight Olympic gold medals in the team event. Joining them are 17-year-old Reed Kessler and top-contender Rich Fellers, who earlier this year became the first American to win the World Cup in 25 years and now seeks Olympic gold.
The U.S. dressage team includes Steffen Peters, Tina Konyot and Jan Ebeling. American Adrienne Lyle will compete at the Olympics as an individual rider, pending final approval from the International Equestrian Federation. Lyle's score will not count toward the team score.
County custom makes saddles for many of the world's leading riders, including the current world champion and triple gold medalist Edward Gal of the Netherlands and the very popular Spanish team rider Munoz Diaz on the crowd pleasing Fuego, both of whom will be in London for the games. County's traditional methods take longer and require a higher degree of craftsmanship, but once a rider sits in a County, the results are clearly worth it. However, the company's commitment to quality and detail is reflected in every saddle it makes, including the ones it makes for riders who someday aspire to represent the U.S. Olympic team in the future.
Resisting the trend toward cheaper production methods using foam rubber panels and plastic trees, County saddles are handmade on laminated beech wood trees, covered in the worlds finest leather, and flocked with pure wool to maximize the horses' comfort and fit. As one of the few saddlery companies in the world that make their own trees, County sets the industry standard in design and innovation.