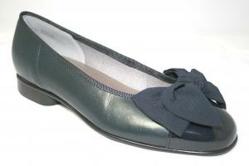 Panache Shoes customers will soon be benefiting from a fabulous new "panacheshoes" website with new footwear brands and the addition of a fabulous new clothing range. (Mark Basford, Co.Director)
England, United kingdom (PRWEB UK) 18 July 2012
Panache, one of the leading names in UK's fashion industry, now promises to make this summer most sensational for the fashion crazy divas by offering stunning ranges of summer sandals and shoes from popular brands at exciting prices through its official and ecommerce website- panacheshoes.co.uk. In a bid to make its new 'state-of the-art' website, which is under construction and is about to be launched shortly a grand success from day one, Panache has decided to add to its collection of footwear and clothing by inviting more brands for selling their items. This is a golden opportunity for fashion crazy ladies, to whom, brands like Gabor, Tommy Hilfiger and Peter Kaiser are hot favorites, to make their wardrobe richer. To provide customers with maximum options, Panacheshoes is now offering products of brands like FitFlop, UGG, Birkenstock, Chie Mihara and Mascaro apart from Tommy Hilfiger Boots, Peter Kaiser Shoes and Gabor Shoes through its website, which is real exciting news for people having footwear fascination.
Mark Basford, co director of Panache is excited to say that the new site would soon become highly beneficial for Panache customers as they will get more scopes to grab products of popular footwear and some fabulous clothing brands.
New collections of Gabor Shoes, Tommy Hilfiger Boots and Peter Kaiser Shoes are already on sale at panacheshoes.co.uk and the new website that the company has invested in would have more in the offering. Right now Panacheshoes is offering multiple best selling ranges of Gabor Shoes, Tommy Hilfiger Boots and Peter Kaiser Shoes for women to choose from.
Gabor Shoes:
If Gabor Boots is your brand then select from sandals with stunning designs like Gabor Sonia Ballerina Antique Rose, IMELDA Sandal, CAMILLA Sandal, TANYA Clogg White, Blissful Loafer, IMPRESSION Sandal, SONIA Ballerina Blue, ROSIE Sandal, TANYA Clogg Brandy, California Loafer, Jollys Lanzarote Blue, ROSE Ballerina Taupe, TANYA Clogg Navy and Jollys Lanzarote Black Patent.
Peter Kaiser Shoes:
In Peter Kaiser Boots, you can choose from Peter Kaiser SEVILLA Black Suede, FASANO Black Suede, EMILIA Black, PALDI Black/White Peep, NIKA Notte Suede, SAMOA Navy Suede, VOLA Turquoise Suede, PALLIA Sand/Pink, JAMILA Taupe Suede, LOU Notte Suede, MERIEL Taupe Court, Jamala Pewter, FERNET Black Leather and much more.
UGG:
You can choose from some stylish UGG sandals like UGG Australia Lucianna Santorini Ikat, Australia KIDS FLARE FlipFlop, Australia IKAT FLARE FlipFlop, Australia Boots TAWNIE Koi Sandal, Australia KIDS FLARE FlipFlop, Australia Boots CALLIA Sandal, Australia KIDS FLARE FlipFlop, Australia IKAT FLARE FlipFlop, Australia Boots TAWNIE Sand Sandal, Australia Boots ISADORA Sandal, Australia Lucianna Grape Ikat, Australia Boots CALLIA Sandal, Australia Boots LUELLA Sandal and Australia Boots ISSA Mosaic.
To fetch some fabulous Tommy Hilfiger summer shoes, just wait for a few days since Panache is going to add the range to its new website. To make this summer special offers more lucrative for you, Panacheshoes is offering the products at exciting prices which you would find difficult to ignore. Enter panacheshoes.co.uk to check out the models and the price tags. You can also enquire over phone by calling at 01628 483134/474574 or send email at info(at)panacheshoes(dot)co(dot)uk. You can also enquire about the tentative date of launch of the new website and ranges that would be put on sale there.
About Panache:
Panache is a name synonymous with clothing and footwear fashion today, not only in UK but in entire European continent. Panache started penetrating in UK's fashion market in the year 2001 with launch of its showrooms at Cookham and Marlow. In 2007 panache launched its first online store-panache shoes and in 2010 it launched a clothing store for ladies in Marlow in addition to its existing showroom. The clothing store has been favorite to ladies from day one since it stocks products of most popular Danish and French brands of fashion wear. Now Panache is about to launch the new version of its online store or website panacheshoes which will create the scope for people to buy clothes and shoes simultaneously.
For More Information:
Contact:
Panache Shoes
Mark Basford
Complete address: 19-21 West Street, Marlow. Bucks. SL7 2LS. England
Business email id: info(at)panacheshoes(dot)co(dot)uk
Your valid phone number: 01628 483134/474574
Website: http://www.panacheshoes.co.uk