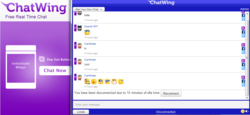 Albuquerque, NM (PRWEB) July 17, 2012
Social media has helped people connect to the Internet and achieve different ends. This is based on the numbers of social media accounts being created in the Internet, day by day. Operating on this fact, the Chatwing team has recently launched a multi-purpose global chat box that can help everyone gain proper communication leverage. The latest Chatwing chat tool is incorporated with a social media login feature useful in meeting new people and empowering various interests.
According to the research of the Chatwing team, many chatrooms have already used social media login feature to attract people. Some of these apps worked well under this improvement, while others suffered from unstable connection that has led to a high attrition rate. Before launching a chat widget with social media option, the Chatwing developers conferred with each other, reflecting on the tons of work needed to maintain the chat platform. After much deliberation, the new version was released in different communities, and it received mostly positive reviews.
Instead of logging in as guests, Chatwing visitors can now use their Facebook accounts as options. Users who logged in with their Facebook accounts will have their profile names visible in the chatroom. In this way, people can click their profile names and send out Facebook invitations. This is the optimum reason why Facebook marketers have flocked to Chatwing and reached out to large groups of people. Twitter login is also allowed because this option will help Twitter users find more followers. In the coming months, the Chatwing dev team is planning to add more social media login options, making the free shoutbox more useful than ever.
Admins of every Chatwing chatbox has a full-range of control when it comes to conversation options. Users can take advantage of word filter system, in case there are some obscene or irate visitors. In a general way, Chatwing users are parts of a grander communication system that thrives on information. Blog marketers can also rely on Chatwing's social media options to fuel their campaigns. This makes the Chatwing chat app an online professional solution.
To keep the chat platform's speed maintained, the Chatwing team is working round the clock in making the necessary tweaks. Chatwing developers are expecting a large influx of users in the coming months, so they are pushing for more developments. To top it all, the Chatwing team is always concerned of their users' social media chatting experience.
About Chatwing.com
Chatwing.com specializes in the new field of website chat. Over years, the Chatwing team has introduced live free chatbox for hundreds and thousands of blogs. The Chatwing application bridges people from many parts of the world, creating global synergy through the Internet. The shout box can be installed in just seconds, and it can be used for varying purposes such as leisure and Internet marketing. It also allows a user to customize the size, color, and name of the widget. Chatwing is 100% free for everyone.