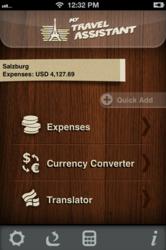 my Travel Assistant keeps all your expenses well documented, clear, and instantly comprehensible no matter what foreign currencies have been used.
Budapest, Hungary (PRWEB) July 19, 2012
my Travel Assistant by Gamma Project is a professional app for global travelers that integrates into a single, convenient package a smart, multi-currency expense tracker with automatic currency conversion, a 156-currency monetary exchange rate converter and a 51-language translator.
Designed as an intelligent assistant for international travelers, the app stores all expenses in both the local and converted, home currencies. With a high-end, dark wood-grain GUI, the app includes no instructions for use; all operations are intuitive and trouble-free.
One-time set-up includes entering the user's language, home currency, and the frequency of exchange rate updates.
The designers have paid great attention to human factors.
For example, English, Spanish, French, Italian and German appear in their respective places in the scrolling list that appears by touching "Your Language", but the group of five most common languages also appears at the head of the list.
Similarly, the app defaults to the user's local currency, with the main currencies - US dollar, yen, euro, swiss francs, british pounds and Canadian dollar - leading an alphabetical list of 156 different currencies.
Used currencies are added automatically to the top of the currency list, so next time you can quickly access them without having to scroll to the list again.
Set-up complete, the home page displays four buttons: Travel Expenses, Currency Converter, Translator, and Quick Add. A summary of the last expense is also shown on the main screen for convenience. The quick add function allows fast expense entry, and goes straight to the entry page of the last trip.
Travel Expenses is the heart of the app, and the Travel Expenses page contains an artfully designed scrolling list of all trips ordered by date by default. The order of trips and expense items can be customized.
The user may substitute any photo or graphic for the generic icon displayed with each travel expense listing, which includes the trip's label (i.e. the country or city), the description of the expense (e.g. work, personal, etc.), the date and the total amount of all expenses, automatically converted to the user's home currency.
Selecting any entry brings up an itemized listing of each individual expense for that particular trip. When entering an expense in the local currency the user may enter a description, and choose a predefined category. Included, with appropriate icons, are: Transportation (Flight), Cash Withdrawal, Taxi, Local Transportation, Hotel, Camping, Fuel, Road Tolls, Souvenirs, Food & Drink, Treatment (Hospital), Shopping, Entertainment, Additional Fees, and Other.
Sums are entered using the built-in, multi-function calculator.
Both the trips and the expenses scrolling list is fully editable, and displays individual expenses in both local and home currencies, plus the date and description.
The currency converter function features side-by-side odometer displays for going from any one of 156 currencies to another. The large entry keypad also includes a calculator function. Results are displayed in the dual odometer highlight window with the currency listing. For example, entering 1,555 displays "Japanese Yen - 1,555 JPY" on the left cylinder, and "US Dollars - 20.202 USD" on the right.
You can quickly change the direction of the conversion by tapping the arrow button situated in the center of the odometer display.
The translator function employs two text fields, each with a labeled flag beside it. The user selects his native language/flag and enters the word or phrase to be translated in the text field. The translator supports copy and paste functionality, allowing translation of eMails or web content. Selecting any of 51 languages displays the translation in red type in the second text field.
Feature Highlights:

Retina Display Ready - for both the iPhone and the new iPad
Universal app - get it once and run it at full resolution on your iPhone, iPod touch or iPad
App Data Sharing - export your trips and expenses via eMail and import them to another iPhone, iPod touch or iPad running my Travel Assistant
Analytics view on the iPad version, showing on what types of services is the most money spent
Appealing, user friendly interface with Retina Display support (high resolution)
Easy-to-use expense management at home and abroad - no matter what foreign currencies have been used - even if multiple currencies have been used during the same travel
Organize expenses by topic for specific categories, trips or projects
Easily edit, reorder or delete trips and entries
Use custom photos as trip thumbnails (take photos or load images from your photos library)
Automatic conversion between the type of currency paid and the user's native currency
Share expenses via in-app, eMail function as a nicely formatted table and as CSV attachment; The csv file can then be loaded into spreadsheet applications for further processing
Universal currency converter supporting 156 currencies
Translate words and phrases between 51 languages, with "copy and paste" support
Built-in Calculator
Auto-refresh of exchange rates (can be disabled in the Settings menu if you'd rather like to manually refresh the rates)
Works offline
Online connection is not required - the only exception being the built-in translator. In this case the app relies on previously fetched currency rates.
Expenses stored in both the local and converted, home currencies
The word and phrase translator supports the following 51 languages: English, French, German, Greek, Hebrew, Italian, Japanese, Russian, Spanish, Swedish, Afrikaans, Albanian, Arabic, Belarusian, Bulgarian, Catalan, Chinese (Simplified and Traditional), Croatian, Czech, Danish, Dutch, Estonian, Filipino, Finnish, Galician, Hindi, Hungarian, Icelandic, Indonesian, Irish, Korean, Latvian, Lithuanian, Macedonian, Malay, Maltese, Norwegian, Persian, Polish, Portuguese, Romanian, Serbian, Slovak, Slovenian, Swahili, Thai, Turkish, Ukrainian, Vietnamese, Welsh and Yiddish.
my Travel Assistant's currency converter and expense tracker supports 156 currencies and precious metals. Excerpt: US Dollars, Euro, UK Pounds, Australia Dollars, Canada Dollars, Japan Yen, Albania Lek, Algeria Dinars, Arab Emirates Dirhams, Argentina Pesos, Bahamas Dollars, Bahrain Dinars, Barbados Dollars,Belarus Rubles, Bermuda Dollars, Brazil Reals, Brunei Dollars, Bulgaria Leva, Chile Pesos, China Yuan Renminbi, Colombia Pesos, Croatia Kuna, Czech Koruna, Denmark Kroner, Egypt Pounds, Estonia Krooni, Fiji Dollars, Hong Kong Dollars, Hungarian Forint, Iceland Kronur, Indian Rupees, Indonesia Rupiahs, Iraq Dinars, Israel New Shekels, Kenya Shillings, South Korea Won, Kuwait Dinars, Malaysia Ringgits, Mauritius Rupees, Mexico Nuevo Pesos, Morocco Dirhams, New Zealand Dollars, Norway Kroner, Peru Nuevos Soles, Philippines Pesos, Poland Zlotych, Russia Rubles, Saudi Arabia Riyals, Singapore Dollars, South Africa Rands, Sri Lanka Rupees, Swedish Krona, Swiss Francs, Taiwan Dollars, Thailand Baht, Tunisia Dinars, Turkey Lira, Venezuela Bolivares Fuertes, Zambian Kwacha, and more (see http://www.leakka.com for the full listing).
Device Requirements:
iPhone, iPod touch or iPad - at native resolution
iOS 5.0 or later
12.7 MB
Languages: English, German, Hungarian
Pricing and Availability:
my Travel Assistant is $2.99 and available worldwide through the App Store in the Travel category. Review copies are available upon request.
About the Gamma Project
Based in Budapest, Hungary, the Gamma Project team is a small independent software company founded by Karoly Nyisztor. With their strong blend of design and development skills, Gamma's passion is to craft quality 3D games and applications for the iPhone. Copyright (C) 2004-2012 Gamma Project. All Rights Reserved. Apple, the Apple logo, iPhone, iPod, and iPad are registered trademarks of Apple Inc. in the U.S. and/or other countries.