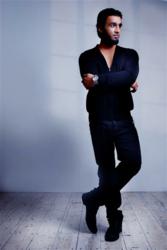 Modelling is a great confidence booster
London, UK (PRWEB UK) 16 July 2012
La Mode London introduce an amateur boxer who would love to mix modelling with his magnetic personality.
'Modelling is a great confidence booster, it builds character and helps people like myself feel they can shine and do better in life,' explains Zoheb Zuber, a 21-year-old aspiring model brimming with his own bucket load of confidence it seems. 'I've seen a lot of bill-boards and television programs and have thought to myself, "I have greater potential than these people, I can go out there and shine, too, without undermining anyone." Furthermore if I choose to go serious with my boxing and I have the right contacts in the modelling industry I could be a great attraction, it will be fun and exciting if it works out.'
The team at the commercial photography company in the heart of modelling London feel confident themselves, knowing Zoheb has got the right attitude without being too overbearing.
'It's so important to have a degree of confidence and also a bit of an attitude when you are starting out in modelling,' said Helen. 'So many new models get a little bit shy when they get out on the catwalk and we have the job then to try and bring them out of their shell.' She goes on to explain that at their infamous shoot days at the model advice company, they see all sorts of models with different personalities trying to make it big in the industry. Zoheb is a character who will certainly stick out in their minds as being memorable. 'He was a real showman, which is what he needs for both his modelling and his boxing and we know he's going to do really well in either direction. '
At 5' 8", Zoheb is not tall enough to be the iconic fashion and catwalk model but he can certainly do well, La Mode feel, in any other type of modelling he tries his hand at. He is certainly very active, which is essential for a model to keep fit and build up their stamina and when asked about his interests, he said,
'I love boxing, currently I am an amateur boxer, I keep myself well conditioned with bodybuilding. I also enjoy rock climbing and bowling, and I have an absolute soft spot for cars. When time allows I also enjoy swimming, going out socializing with family and friends, going to the cinema, eating out, travelling, bargain shopping, reading and researching online about cars and boxing, and also cycling.
With inspirations such as Muhammad Ali, Zohab says, 'for a man to stand up for what he believed in and come out victorious, truly he can be everyone's inspiration, whether that can be in life or boxing, I choose both. He was a political and poetical freedom fighter, with supreme boxing skills and great ability to dazzle the mass public inside or outside the ring. generations will continue to adore him as well as discover him and realize that Muhammad Ali was truly a remarkable yet great individual, a type of person guaranteed to put a smile on your face and leave you motivated and strong.'
His eloquence certainly shines through, which again, La Mode think is a definite asset and he could talk himself into any job they feel.
He goes on to say, 'Mike Tyson. The most feared and the most exciting heavyweight of all time with tremendous heart and courage. For years he was a misunderstood victim of hate and stereotyping and after all of what he has been through he has found peace and lives happily with his family.'
Visit http://www.lamodelondon.com and see not only Zoheb's modelling portfolio but also others as they occur. Each portfolio has a contacts page but also pages which include the stunning photographs which are taken on the photo shoot days, as well as a page dedicated to each model, listing their vital statistics, inspirations and interests, gaining an insight behind the image and getting to the bottom of each model's personality.