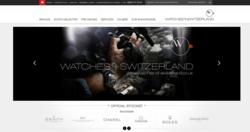 Watches of Switzerland offer a complete luxury watch buying experience
London, UK (PRWEB) July 18, 2012
Watches of Switzerland continue to grow their online store with four new exclusive brands: Bulova Accutron, B.R.M, Glycine and Mühle Glashütte watches. These unique timepieces are now available exclusively online.
Bulova Accutron – 20th Century Innovators
Bulova Accutron are a watch brand synonymous with the 20th century. In the 1960s NASA called upon them to create precision timing instruments for NASA satellites, meaning an Accutron watch movement sits on the moon's Sea of Tranquility today, in an instrument placed there in 1969 by Apollo 11 astronauts, the first men on the moon. On the brand's 125th birthday in 2000, the Mayor of New York Rudy Giuliani decreed October 4th 'Bulova Day'. 12 years later, Bulova Accutron continue to impress buyers with their captivating selection of quartz and automatic movement luxury watches.
Mühle Glashütte – Maritime Legends
Mühle Glashütte are a classic German brand founded in 1869, their brand ethos: to keep their watch designs clean and simple with no distractions. Legibility and comfort are the root ideals behind all Mühle Glashütte pieces, apt for a brand born in the home of German watchmaking in the heart of Saxony. Check out the S.A.R. Rescue Timer, endorsed by the official German Maritime rescue team, and the Antaria Chronograph for examples of impeccable simplicity blended with faultless design.
B.R.M – Motorsport Favourites
Bernard Richard Manufacture are inspired by the technology used in motor racing, with their designs dating back further than a century. Fans of the sport will adore B.R.M.'s designs, with the smart watch faces looking as if they've been lifted straight from the instruments in a race car cockpit. Hailing from France, the watchmaker works in partnership with racing car manufacturer Abarth.
Glycine – For the Pilot's Pilot
Glycine is a watchmaking house that has stood the test of time. Founded in 1914, Glycine survived the Great Depression and carried on doing what they do best: constructing classic watches. Best known for their Airman collection (dubbed 'the pilot's pilot's watch), Glycine are a competitive brand by nature and have released classic models years before better-known contemporaries. The flagship model is the GMT watch which preceded the famous Rolex timepiece.
Watches of Switzerland offer a complete luxury watch buying experience: expert advice and a full repair service. The team of specialist salespeople can advise on finding your special timepiece and also assist with insurance valuations. Any complex cases can be referred to the manufacturers themselves.
As well as stocking the more niche brands Watches of Switzerland are the UK home to established giants such as Rolex, Patek Philippe, Breitling and Audemars Piguet. The flagship store is located on Oxford Street, London, with other outlets located in Heathrow terminals 1 and 3, Brighton, Cardiff and Manchester amongst other UK cities. Discover the online store at Watches of Switzerland.