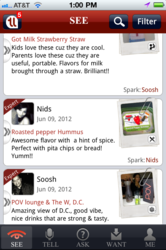 Word of Mouth? There's an app for that!
Tysons Corner, VA (PRWEB) July 18, 2012
The Tried & Liked team has just released a personal recommendation app that is set to change how people get advice. The app, available now and free in the Apple and Android stores, has been making waves since its launch earlier this month. Sushant Mathur, Founder of Tried & Liked, says the concept was born out of a need he and his friends observed on a daily basis. Even though the app is new, the fundamental concept is not. As Sushant stated in a recent interview, "Tried & Liked essentially enables and formalizes the phenomenon of word of mouth, so you can get personal recommendations from your trusted group of friends within seconds. Word of mouth is so useful and influential in our everyday lives, yet so elusive to capture and reference. And, while we do offer a website, this is something that had to be a mobile app because of the natural behavior and people's desire to get such info on the go."
Before Tried & Liked, people exchanged their positive consumer experiences verbally – often leaving product discovery to chance and memory. But, people are talking and e-mailing less, and leveraging their mobile devices more. Tried & Liked brings this very natural behavior to a users smartphone, and its founders believe that their product makes word of mouth instant, organic, and significantly more useful for their networks. In the short time since launch, the Tried & Liked team has seen both expected and innovative uses of the app including recommendations for little known red wines, out-of-the-way restaurants, gourmet foods, innovative products (ever heard of a balance bike or Got Milk flavored straws?), books by upcoming authors, and nearby clothing deals.
As Sushant indicates, "The app fills a void in users' current repertoire of useful apps. Your social life is in good hands with Facebook, but communication on Facebook is more of a mass broadcast; relevance and quick referencing is critical to our consumer audience. LinkedIn has your professional life covered. Instagram allows users to modify and share cool photos with ease, Twitter allows exchange of thoughts and comments. But, there is nothing compelling in the personal recommendation space, and Tried & Liked fills that void."
The app is designed to cover four essential communication requirements of its users and allows users to share recommendations in just a few clicks as listed below:
•TELL: Allows the user to recommend something they found, tried, & liked, TELL others easily from their smartphone. Users can spark their own trend. Or, they can acknowledge and thank others for a tip.
•SEE: Users can scan the app to SEE which products/services their trusted micro network is recommending to them. Users can check their Tried & Liked™ app or login online before they make their next purchase or commit to a service provider. This allows users to be able to tap into their pockets of influence, and take the guesswork out of their daily consumer decisions.
•WANT: Tag & quickly reference something recommended to a user. Users can share WANTS with a smaller group in case a user needs gift ideas. In addtion, if a user sees a WANT while on the go, then they can save that thought & reference it when they're ready to buy.
•ASK: Allows the user to not waste time or money making consumer decisions. Before they buy or sign up, then can quickly ASK their circle of trusted friends. Questions like "I'm thinking about buying a DSLR camera – you guys have one you like?" or "Anyone know of educational & safe toys that would make good birthday gifts for 3-yr olds?" can be addressed by instant answers for a users important questions.
Tried & Liked is free and available for both iPhone and Android platforms. Start harnessing the power of personal recommendations today!
iPhone App URL: http://itunes.apple.com/app/tried-liked/id523182685
Android App URL: http://play.google.com/store/apps/details?id=com.mofirst.triedandliked&hl=en_GB
About Tried & Liked Inc:
Tried & Liked Incorporated is a boutique mobile application firm located in the Washington DC region. Tried & Liked(TM) is "Word of mouth...at your fingertips"(TM); the best source of instant, trusted product and service tips...in your pocket. It's a mobile platform for personal recommendations. You have enough socializing and networking tools. You have enough ways to select restaurants. You can get plenty of reviews from experts, and even 5-star ratings from total strangers. Those are useful tools, but, we're interested in offering a more personalized, micro experience, all about products and services that have been Tried & Liked(TM). We believe people are most passionate about expressing positive experiences, so we help you skip the negative clutter and only focus on things that are Tried & Liked(TM), and highly recommended by those whose opinions matter most to you. Copyright (C) 2012 Tried & Liked Incorporated. All Rights Reserved. Apple, the Apple logo, iPhone, iPod and iPad are registered trademarks of Apple Inc. in the U.S. and/or other countries.