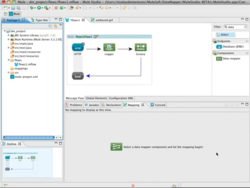 With Clover, MuleSoft can approach clients' data integration needs with heightened strength, agility, and real usability to offer a greater overall ESB package.
Arlington, VA (PRWEB) July 19, 2012
Javlin today announced that CloverETL data integration software will play an important role in MuleSoft's Mule ESB and CloudHub offerings – platforms that act as transit systems for carrying data between applications, simplifying the process of maintaining and growing application integrations.
As part of the partnership, CloverETL's Designer and Engine support Mule Studio, MuleSoft's Eclipse-based graphical designer that drives Mule ESB and CloudHub. With Mule Studio's visually intuitive DataMapper, users can easily interact with complex data sets and formats to create maps and transformations that support their integration use cases. Integrated into Mule Studio, the visual part of MuleSoft's DataMapper builds upon a variety of CloverETL Designer APIs to provide integration developers with intuitive screens for development and design-time validation of data payload mapping.
The payload mapping is then translated into the CloverETL data transformation format utilized by the CloverETL Engine, which performs the actual payload transformation based on user-defined mapping. The CloverETL Engine has also been fully integrated into the Mule ESB Enterprise and CloudHub deployment platform environments to provide a seamless experience and support in production.
Business analysts looking for the value in their data can easily work with the common data integration functions such as:

Communication with databases, accessing message queues, exchanging data with packaged or custom applications (including legacy apps)
Working with data in different modern formats (XML, JSON), or legacy (CSV, fixed-length or Cobol)
Direct integration with data structures of Java programming language (POJOs, hash-maps or JavaBeans)
"Built into Mule Studio, CloverETL helps drive data mapping with the easy-to-use, analyst-friendly GUI. As an Eclipse-based developer tool, Mule Studio allows users to graphically create and test Mule ESB flows. With the help of Clover, the need for direct programming knowledge is significantly reduced," said Ken Yagen, VP of Products for MuleSoft.
The Mule Studio DataMapper works on top of CloverETL Designer to provide users with the tools to quickly design data transformations: "CloverETL and MuleSoft embrace the opportunities an OEM relationship offers," said Peter Cresse, EVP of Sales, Javlin. "With Clover, MuleSoft can approach clients' data integration needs with heightened strength, agility, and real usability to offer a greater overall ESB package."
Complete information on the partnership and ESB solution can be found at: http://www.cloveretl.com/about/partners/mulesoft.
About CloverETL and Javlin
CloverETL is the fast-growing ETL and data integration software for both the OEM and direct software data business. CloverETL can be used for data management projects such as data integration, data migration, or data quality; it can run as a standalone application or be embedded into wider solution such as Enterprise Service Bus (ESB), Business Intelligence (BI) or Master Data Management (MDM) solutions. CloverETL integrates data from disparate formats, in both small and large volumes for critical business data. CloverETL is developed and supported by Javlin, a data solutions company with a long record of experience in providing data software and services to the largest global enterprises.
http://www.cloveretl.com | http://www.javlininc.com | Follow us on Twitter: @CloverETL
About MuleSoft
MuleSoft provides the most widely used integration platform for connecting SaaS and enterprise applications in the cloud and on-premise. With the rise of cloud and mobile, enterprises face a choice: get overwhelmed by the resulting explosion of end points or seize the opportunity to gain competitive advantage. Founded on the idea that connecting applications should not be hard, MuleSoft lets organizations harness the power of their applications through integration. MuleSoft's Anypoint™ technology eliminates costly, time-intensive point-to-point integration, enabling business agility. Delivered as a packaged integration experience, CloudHub™ (formerly Mule iON) and Mule ESB™ are built on proven open source technology for the fastest, most reliable integration without vendor lock-in. Supporting billions of transactions per day, MuleSoft is used in production by thousands of enterprises, including Walmart, MasterCard, Nokia, Nestlé and Honeywell, and powers integrations with leading SaaS vendors such as Salesforce.com, NetSuite, Workday, Intuit and Zuora.
http://www.MuleSoft.com | Follow us on Twitter: @MuleSoft