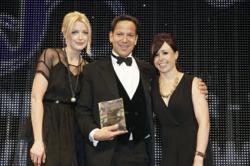 ...it wasn't until my name was announced that I realised the award was for me! I am genuinely shell-shocked to win this award...
Hatton Garden, London (PRWEB UK) 17 July 2012
Since joining his family business a decade ago, Jason Holt has worked tirelessly with businesses, governments and academic bodies in order to turn his Hatton Gardens headquarters into the only accredited apprenticeship in the jewellery industry.
Now called Holts Academy for Jewellery, it trains 1,000 jewellery designers and manufacturers at 3 London locations, so it came as little surprise when earlier this year Holt was approached by Ministers to head up a government review on 'Making Apprenticeships more Accessible to SMEs'- the results of which will be published this month.
Jason is CEO of The Holts Group of Companies, managing director of Holts Gems, founder of not-for-profit enterprise Holt's Academy of Jewellery and co-founder of technology-leader Holition, an award-winning creative services agency. Jason is also holder of the Queen's Award for Enterprise Promotion and is responsible for championing the sector and local communities while also boosting the trade in his role as a UK jewellery industry media spokesperson.
Despite all his work over the past ten years, the award came as a complete surprise to Jason, speaking about his win he said: 'As they were reading out the winner's achievements I thought what a coincidence that someone else had also done this, but it wasn't until my name was announced that I realised the award was for me! I am genuinely shell-shocked to win this award, which is, in truth, a recognition of the hard work of Lee Lucas and his academy team for making a real difference and addressing the skills needs of our wonderful industry.'