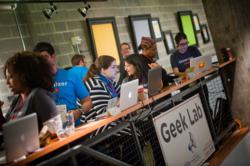 The Salsa Community Conference brings together our entire network – clients, partners and industry experts...
Washington, D.C. (PRWEB) July 16, 2012
Washington, D.C. – July 16, 2012 - Salsa Labs, Inc., creator of the integrated organizing platform Salsa, has opened online registration to its annual Community Conference slated for September 20-21 in Washington, D.C. This year's conference will focus on the strength that nonprofits and political campaigns can draw from the Salsa Network, to build and engage their base of support.
Located at FHI 360 Conference Center off DuPont Circle, the 2012 Salsa Community Conference boasts two days of training, networking and strategy. Attendees can join workshops on list-building, fundraising, social media and all the trends shaping the online communication space, plus presentations by Salsa partners, "Curbside Consulting" jam sessions with the sector's biggest brains and Geek Lab technical assistance from Salsa's own support and development staff.
Salsa Labs will also honor outstanding nonprofit and political organizers with awards at its lively Salsa Fired-Up Fiesta on September 20.
"The Salsa Community Conference brings together our entire network – clients, partners and industry experts – to create a unique chance to share recent successes and ideas for moving our shared missions forward," said Chris Lundberg, chief executive officer and co-founder of Salsa Labs. "Attendees will learn the secret ingredients to improving and growing their online organizing strategies."
Registration is online at http://www.SalsaLabs.com/2012-conference. A $50 early-bird discount expires after July 20.
About Salsa Labs
Salsa Labs (Salsa) helps non-profits and political campaigns to build, organize and engage a base of support. In one easy-to-use, integrated and flexible web-based system, groups of all sizes can manage their supporters and chapters, communicate through email and social media, fundraise, advocate, host events and measure results. With all that as well as our top-notch training, support and strong online community, Salsa provides you the best value for your investment - letting you focus more resources on your mission. Salsa currently supports more than 2,000 organizations' relationships with more than 75 million donors, members, activists and fans all around the world. We can do more things together than we can apart. http://www.salsalabs.com.