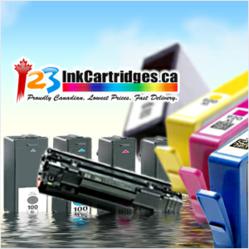 Montreal, Quebec (PRWEB) July 16, 2012
The premier online supplier for printer and computer needs has just revealed a new inventory list to include the Canon 104 compatible black toner cartridge. These newly available cartridges have been added to their available line of Canon printer cartridges and are covered with the same one year guarantee as their other fine computer products.
123inkcartridges.ca leads the pack when it comes to high quality reasonably priced ink and toner cartridges for printing requirements. Their online website is easy to locate and purchasing the exact product needed is a simple process. Their online store ships products to locations in both Canada and the United States.
The company is located in Montreal, Quebec, Canada and the facilities are centrally located to meet speed of shipping and order fulfillment. The employees strive to make a visit to their online store a pleasant and successful one. Their chief goal is and as always been customer satisfaction. It is customary that the company stands behind its products with a one year guarantee and prices are reasonably discounted to be affordable, yet of high quality. The line of Canon products offered is large enough that anyone should be able to readily locate the replacement cartridge needed. Help with selecting the product needed is found in the FAQ section of the website or by calling staff which are available online 24/7; they can provide up-to-date and accurate information at any hour of any day.
Consumers may visit the site online at http://www.123inkcartridges.ca to locate an ink or toner replacement cartridge for convenient shopping. While at the site, shoppers will be amazed at how many products are available to meet office supply needs, electronics accessories, printer ink and toner cartridges, cables, batteries, chargers, and other iPhone/iPad accessories. Their selections cover most basic office needs.
About 123inkcartridges.ca
This online company readily identified the need for high quality and discounted products for home and office customers. The ink cartridges and toner cartridges were their first product line and can be purchased new or remanufactured. This company has an office in Montreal and one in Vancouver. Inventory at these locations is large enough to ensure that orders can be filled and shipped without delay. This premier supplier of home and office needs continues to expand their inventory to meet most product needs with the goal of keeping prices affordable and selections of the highest manufactured quality.