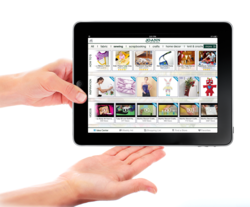 This is an amazing compendium of ideas. The app is beautifully designed for endless browsing.
Hudson, OH (PRWEB) July 17, 2012
Jo-Ann Fabric and Craft Stores, the leading fabric and craft specialty retailer in America, is excited to announce the launch of its newest, most interactive inspiration resource to date – the Jo-Ann app for iPad®.
"Our customers crave fresh inspiration delivered to them through a variety of means. What we have accomplished with the Jo-Ann app for iPad is consolidating all of these inspiration sources into one highly engaging experience called the Idea Center," said Riddi Kline, senior vice president and chief marketing officer for Jo-Ann.
The Idea Center gives crafters three convenient ways to discover their next project or inspiration – all in one simple-to-navigate tab. Projects provide complete, step-by-step instructions; videos offer tips, techniques and complete tutorials from the Jo-Ann YouTube page; and inspiration can be found in the form of photos that are sure to spark the creativity of crafters of all skill levels.
The Jo-Ann app for iPad® also makes it easy to share and save the inspiration crafters love the most. By simply clicking the heart icon, the Jo-Ann app will save the selected project, photo or video in the Favorites tab. Crafters love to share, and the Jo-Ann app makes it easy to do so via Facebook, Twitter and email.
In addition to the Idea Center, the Jo-Ann app for iPad® offers users three more convenient tools:

Weekly Ads & Catalogs feature inspiration, ideas, in-store events and popular, money-saving offers on the latest sewing and crafting products - plus, information on sewing and crafting classes in participating stores.
The Shopping List lets crafters keep track of the supplies they need for projects.
Search and select from more than 770 stores nationwide, or relax and let the app do the work and find the nearest store with the interactive Find a Store feature.
"Our team has worked very hard to deliver the most functional and inspirational app to our customers, and the feedback we have received from them so far has been extremely positive," said Kline. "With that being said, we will continue to update and evolve the app over time as we find new ways to enhance the experience."
Reviews of the Jo-Ann app for iPad® have lauded its engaging, inspiration-first approach.
"This is an amazing compendium of ideas. The app is beautifully designed for endless browsing," said Steve Smith in a review for MediaPost. "The triple tiers of content in the Idea Center have a trove of How To projects, inspirational images and videos after videos. Every imaginable category of craft, from scrapbooking to knitting and floral arranging, gets its own pile of valuable content with full images and instructions."
Smith's sentiments have been echoed by customer reviews in the iTunes store, as well. Comments include:
"Finally an app that I can find my next project ideas. I love the weekly ads, helps me find good deals!" – Crafty_Lady62
"I like the "how to" videos and crafting ideas. The ads are colorful and vibrant on my ipad3. Well done!" – LedZep8
"Great for viewing the weekly ad!" - Pinkie7712345
In addition to the Jo-Ann app for iPad®, you can still find all of the products and inspiration you need for any project at Joann.com.
About Jo-Ann Stores, Inc.
Jo-Ann Fabric and Craft Stores, the nation's largest fabric and craft retailer with locations in 49 states, was founded in 1943 as a single retail store. Today, more than 770 Jo-Ann stores across the country provide consumers all the fabrics, craft supplies and inspiration they need, conveniently under one roof. For additional information, visit http://www.joann.com.