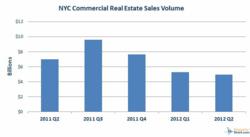 New York City, NY (PRWEB) July 18, 2012
The number of commercial transactions over $5 million closed during Q2 2012 was significantly higher – up 20% over the previous quarter and 33% over the previous year.
While the total number of transactions (812) remained almost stable in Q2 2012 compared to the previous quarter (822), the total commercial sales volume ($4.94 billion) decreased slightly by 6% over Q1 2012.
The office market is the only sector which saw an upswing in sales volume – up by 7% over Q1 2012 and reaching a total of $2.83 billion.
The sales volume for the multifamily building segment decreased slightly this quarter – down 2% over Q1 2012 and 1% year-over-year.
Manhattan comprised 80% of the total commercial sales in Q2 2012, accounting for almost $3.95 billion. Brooklyn followed distantly with $737 million in sales volume, which represents a 58% increase over Q1 2012 and a 50% increase over the same quarter of the previous year.
Sold for $294 million, the landmark office building at 14 Wall Street became the priciest commercial transaction in Q2 2012.
Click the following link for the full report: http://www.propertyshark.com/mason/components/blogcenter/pdf_report.mas?id=80
PropertyShark.com provides real estate professionals, investors and savvy homebuyers from most US states with comprehensive property information, including owner name and phone number, building details, comparable sales, foreclosure listings, zoning, violations, maps, mailing lists, and photos. This is done in an effort to offer the transparency essential to evaluate real estate and make informed decisions.