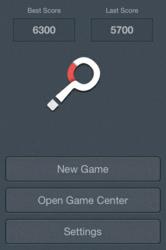 "Talking YooHoo
available now for iPhone"
Cupertino, CA (PRWEB) July 17, 2012
Gamers searching for a unique, challenging and addictive new guessing game app can now enjoy hours and hours of fun by downloading WhatThe.
Designed by Yves Tscherry, WhatThe presents gamers with small, cryptic sections of a photograph, and challenges them to guess what it could be as quickly as possible. Gamers can choose to guess 10, 20 or 50 images, and in total, there are 150 high resolution images waiting to be guessed.
Everyday Items users must identify vary from water droplets to park benches and many commonly seen objects in between. Each clue presents the familiar world in a way that will confuse and challenge all gamers, however assistance is provided in the form of 3 possible answers for each challenge, ensuring that even the most difficult clue can still be attempted.
Game Center integration ensure that high scores are automatically saved and players can easily compare scores and compete with both friends and all users anywhere around the globe - to determine the world's greatest WhatThe player.
"WhatThe is designed to be both fun and challenging," commented creator Yves Tscherry. "It's ideal for gamers of all ages. They can compete to see who has the best score, or then can keep testing and challenging themselves to improve upon previous results. And just as impressively, the app makes full use of their device's remarkable retina display capability, so it's a delight to look at as well!"
WhatThe, the unique, challenging and addictive new guessing game app, is available now at iTunes for immediate download here. The app is compatible with Phone 3GS, iPhone 4, iPhone 4S, iPod touch 3G, iPod touch 4G, iPad and requires iOS 5.1 or later.
For more information or media inquiries, contact Mark Johnson of appshout! on behalf of Yves Tscherry at +1 408 757 0156 or press(at)appshout(dot)com.
About Yves Tscherry
Whilst growing up in the Mountains of Switzerland Yves was already developing a passion for aesthetics, visual design, digital arts and composition. This passion has continued throughout his life so far, which has seen him release 6 music albums under the name "Feerglas" and also become an enthusiastic and skilled photographer.
In 2010, after finishing university, he began programming his first Mac applications and at the beginning of 2012 started developing iOS apps for the ITunes App Store, primarily focusing on utility apps.
Yves Tscherry states a pretty clear philosophy: Keep it simple, make it work for everyone as easily as possible.
Learn more: http://feerglas.com/