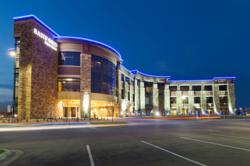 We saw a need for expanded services and improved facilities in this region so we were eager to make the financial investment.
Aberdeen, SD (PRWEB) July 16, 2012
Access to quality health care expanded today for people of northeast South Dakota. The new Sanford Aberdeen Medical Center officially opened this afternoon to meet those needs with expanded services, state-of-the-art technology and a healing environment.
The newly constructed hospital is Sanford Health's first hospital in this community. It is three floors, 48-beds and connects to the existing Sanford Health Aberdeen Clinic. It is a full-service regional hospital that includes adult and pediatric care, labor and delivery, critical care, cardiac cath lab, inpatient and outpatient surgical and procedural areas, inpatient and outpatient therapies as well as an emergency department.
"We are so proud to be a part of this community," says Gordon Larson, CEO of Sanford Aberdeen Medical Center. "As Aberdeen and surrounding communities continue to grow, so does the need for quality health care, and we saw a need for expanded services and improved facilities in this region so we were eager to make the financial investment."
"It's very important to run the emergency department in a way that we're all very proud of, with the goal of always delivering care that is top-notch," says Kevin Aston, DO, emergency department director, Sanford Aberdeen Medical Center. "When you visit our emergency department we realize this is an uncertain time. That's why we get you to a comfortable room as quickly as possible, register you at the bedside and get the doctor in to see you."
The facility was carefully designed to support staff in patient care through utilization of a fully integrated electronic health record, a "minimal lift" culture and efficient work -flow patterns - all to improve the patient experience. More than 30 local and regional artists contributed pieces to the facility.
"Everything in this building was intentional. The idea is to focus on the patient and their loved ones and families," says Larson. "We wanted to create a space that fosters healing. You will see open spaces, natural light and local art work throughout."
Sanford Health broke ground on the $60 million facility in May 2010 and has an Aberdeen presence since 1979. Aberdeen (population 26,000) is a growing community in northeast South Dakota.
About Sanford Health Aberdeen
Sanford Aberdeen Medical Center is a state-of-the-art hospital now open to meet the growing health care needs of the Aberdeen region. The 48-bed medical center is directly attached to the established multi-specialty Sanford Health Aberdeen Clinic.
Sanford Health Aberdeen Clinic is a primary care clinic with locations in Aberdeen and Ipswich, SD as well as providers on site in Ellendale, ND. The clinic offers comprehensive care to patients of all ages with services including family medicine, occupational medicine, internal medicine, cardiology, obstetrics, gynecology, pediatrics – Sanford Children's and Acute Care for care on nights and weekends.
As a member of the Sanford Health system, the Sanford Clinic in Aberdeen also provides on-site access to pediatric and adult outreach specialists.
###
MEDIA NOTES: A full photo library is available.