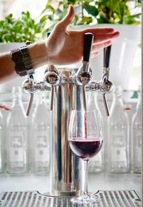 Selling wine from a keg is the wave of the future. It means fewer bottles, less waste and less shipping, so we have a much smaller carbon footprint - all with the quality customers want. It's a very green way to go. - Carla Baden, Owner
Asheville, NC (PRWEB) July 16, 2012
Earlier this year, wine-lovers at Santé Wine Bar and Tap Room in Asheville were treated to a new concept in winemaking: wine from a keg. Yes, you read that right: wine from a keg. Santé's MicroMatic keg system is the first in North Carolina to feature twelve taps solely dedicated to wine, and it's an idea whose time has come.
Carla Baden, owner of Santé, believes that Asheville was the perfect place to launch the new keg concept. "Asheville is the kind of place where people - visitors and locals alike - are thoughtful about their food and drink," says Baden. "The wine tastes fantastic and we're really proud to be the first in the state to offer this wide selection of wines on tap."
While the wine tap room concept is new, customers will be quite familiar with the look of the keg wine system as it's similar to draft beer, though the process differs for pouring the perfect glass. Whereas draft beer uses high-powered carbon dioxide to give the beer its fizz, draft wine uses inert gas under low pressure to deliver the product and ensure freshness. Also, the benefits of serving wine from a keg appeal to many. First, it's better for the environment. Waste reduction is a key selling point for many keg wine proponents. One keg holds about two cases of wine, but without the glass bottles, corks, boxes and packaging. Plus, transporting kegs is more efficient and better for fuel consumption since kegs weigh less than glass bottles. Second, the system is airtight which means no oxidizing and no spoiling, so the last glass is as fresh as the first.
Santé's wine tap system currently features a silky 2010 Austrian Zweigelt from Zum Martin Sepp; Sainsbury's 2010 Pinot Noir from Carneros; a Tempranillao, Grenache and Syrah "Tinto" from Trenza; Charles and Charles 2010 Red Blend; Gotham Project's 2009 Old Vines Zinfandel, 2010 Agriculture Red Blend from Portugal, and 2010 Riesling from New York state; Katas' Malvar from Madrid; and three 2010 SIP (Sustainable in Practice) certified California whites - an Albariño, a Pinot Gris and Chardonnay - from Niven Family Wine Estates.
While Santé may be partial to wine, they also offer four local beers on tap as well as light fare to compliment the wine. Selections include several local and imported cheeses, salads, and handmade pizzas, as well as an assortment of house-made dips including olive tapenade, blue cheese and roasted walnut, and a creamy Gournay cheese spread. Santé also offers a myriad of choices of wine by the bottle, and has no plans to change that anytime time soon. Says Baden, "We realize there will still be times that customers will want to buy a bottle of wine to drink here or enjoy at home. Our new keg system will not change that but will simply offer more choices."
Santé is located in downtown Asheville at One Page Avenue in the Grove Arcade. Santé opens at 4:00pm daily and is also available to book for private parties. No reservations are needed, although large parties are advised to call ahead. For more info, call (828) 254-8188 or visit http://www.santewinebar.com.