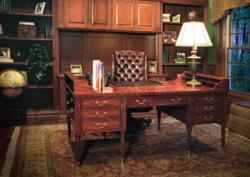 Buffalo, NY (PRWEB) July 17, 2012
Kittinger Furniture Company, Inc. (Kittinger), a custom furniture manufacturer based in Buffalo, NY for 146 years, was honored on Independence Day at the U.S. Capitol as this year's recipient of the 2012 BEST: Made in America award. This annual designation is given to an American-based manufacturing businesses by MADE: In America (MADE), a not-for-profit organization in Washington, DC that identifies, honors, and showcases America's leading manufacturers.
Kittinger stands above the multitude of mass assembled furniture manufacturers by domestically producing custom designed, bench-made pieces of exquisite furniture for the dining room, the living room, or the boardroom. While Kittinger is traditionally known for its historically accurate designs, today's Kittinger Furniture Company also produces fresh, contemporary pieces upon request.
Kittinger's reputation as a maker of fine furnishings is proven frequently by various administrations that have served in the White House. Several prestigious U.S. and other world leaders trust Kittinger to design, build, and restore their finest furnishings for rooms in which to invite dignitaries and make weighted decisions for constituents. Kittinger designed and built furnishings specifically for the West Wing during its restoration. Even today, the distinguished Cabinet Room of the White House features an exquisitely handcrafted Kittinger conference table with chairs that were personally ordered and paid for by Former President Richard Nixon in 1969. Twenty-eight years later, Kittinger Furniture was again hired to restore the table.
"We at Kittinger Furniture are honored and grateful to receive the 2012 BEST: Made in America award. Since 1866, Kittinger Furniture has demonstrated the tenacity required to achieve excellence in furniture design, manufacturing, and economic sustainability during periods of management transitions and recessions. We have been and continue to be dedicated to American craftsmanship and the American worker. Our company, our employees, and our handcrafted products are symbols of 'Made in America'. We value all of our clients and their loyalty to our products," says Ray Bialkowski, President of Kittinger Furniture.
Bialkowski first worked for The Kittinger Furniture Co. in 1979 as an apprentice cabinetmaker. He then worked his way into a position as master craftsman and, subsequently, led the company cabinet design and production department. In 1996, Bialkowski acquired Kittinger after many years of troubled ownership. Bialkowski's loyalty to the Kittinger legacy, designs, and high standards of quality enabled him to maintain a relationship with some of the company's most prestigious clients, including the White House.
After acquiring Kittinger Furniture, Bialkowski never compromised on the design and quality of any Kittinger products. He emphasized the importance of detailed craftsmanship by employing the finest and most skilled craftsmen. "We are proud of our longstanding heritage as an American manufacturer of fine products, as well as an employer that regards skilled labor as an invaluable part of a successful business. This award and the loyalty of our clients are testaments of our hard work and vision," says Bialkowski.
Kittinger Furniture Company, Inc. proudly displays their products at showrooms across the country in Chicago, Dallas, Atlanta, New York City, and Washington, D.C. In September of 2012, Kittinger Furniture will explore new global markets by featuring their products in Tokyo, Japan at Sala Azabu, a reputable showroom since 1974 that features global imports of specialty furniture.
In addition to the private awards ceremony held on July 4, 2012 at the U.S. Capitol, Kittinger's award winning products will be on display and open to the public through the month of July at the Washington Design Center's "At Home in Washington Show House" located at 300 D Street, SW, Washington D.C. The showroom will be open Monday through Friday, 9:00 AM – 5:00 PM.
About Kittinger Furniture Company, Inc.
Kittinger Furniture Company, Inc. is a custom designer and manufacturer of the world's finest handcrafted furniture since 1866. Historical and new custom designs, flawless precision, and detailed craftsmanship are the hallmarks of each Kittinger product. In addition to creating new pieces, Kittinger also offers restoration services.
Kittinger Furniture Company, Inc. manufactures all goods and products at 2495 Main Street, Buffalo, New York. Kittinger proudly sells and displays their furniture at The Kittinger Gallery& Design Studio located at 5363 Transit Road, Williamsville, NY. To learn more, visit http://www.kittingerfurniture.com and http://www.kittingergallery.com.
About MADE: In America
MADE: In America is a not-for-profit educational organization based in Washington, D.C. whose mission is to create and foster a business climate conducive to the free exchange of ideas and information for the purpose of revitalizing and sustaining the competitiveness of American commerce and industry in a global economy. To learn more, visit http://www.madeinamerica-usa.org.