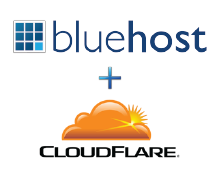 CloudFlare is one of the best tools we've found to optimize a website. We're sure our customers will love it.
Provo, UT (PRWEB) July 17, 2012
CloudFlare operates one of the world's leading content distribution networks. Bluehost has partnered with CloudFlare to make their services instantly available to their customers.
To help make CloudFlare accessible to users of all skill levels, Bluehost offers direct integration from every customer account. Users simply select CloudFlare within their account settings and identify which website(s) they wish to enhance.
"We're excited to work with BlueHost to bring CloudFlare to their millions of customers," CloudFlare co-founder and CEO, Matthew Prince, said. "It couldn't be easier; any BlueHost customer can make their site even faster and add an additional layer of security with just a few clicks from their hosting control panel."
CloudFlare works by intelligently copying site content and information to servers strategically placed throughout the globe. This dramatically increases website performance by accelerating load times, limiting spam, filtering malicious attacks, and blocking abusive software that otherwise wastes bandwidth and server resources.
"We're always striving to find the best tools in the world and then build them into our system so our clients can use them quickly and easily. CloudFlare is one of the best tools we've found to optimize a website. We're sure our customers will love it," said Brian Sargent, Sr. Product Manager.
A basic version of CloudFlare is available for free to all Bluehost customers and can be activated on any website in minutes. Users wanting additional speed enhancements, advanced security controls, and more frequent statistics can easily enable a Premium upgrade for only $14.99/month.
For questions or to learn more about CloudFlare on Bluehost, visit http://www.bluehost.com/cloudflare.
About Bluehost
Bluehost is a leading provider of shared hosting services and is known for its industry-leading reliability and U.S.-based customer support. Bluehost produces exclusive technology designed specifically for shared hosting and reseller hosting. The company also owns and operates its own data center, domain registrar and nationwide fiber network. For more information, visit http://www.bluehost.com or call toll free (888) 401-HOST.