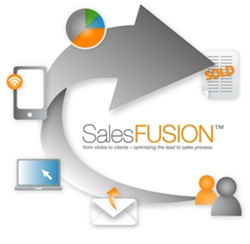 "MMI represents all that is right with marketing automation solutions today. The team at MMI, led by Patricia McLoughlin, did a fantastic job with the pre-built integration between SalesFUSION and Microsoft CRM.
Atlanta, GA (PRWEB) July 17, 2012
SalesFUSION™ is the maker of SalesFUSION 360, an integrated sales and marketing demand generation platform. Recently its client, Managed Maintenance, has been awarded the Demand Gen Report's 2012 Sales & Marketing Alignment Award.
The DemandGen Report 2012 Sales And Marketing Integration Award recognizes those companies that have integrated technology with their demand generation process. To qualify, companies had to showcase their integrations in the following five arenas: data, social, targeting, online events, and sales enablement. Within each of these categories the winner's had to show how creative tactics and tools were used that enhanced and enabled the sales process. Finally, this award identifies how the winners are able to create and manage systematic, repeatable processes internally that ultimately result in increased conversion rates.
"While B2B organizations have traditionally focused on mapping marketing automation to CRM systems, business success today hinges on the integration of many different tools and platforms," says Amanda Batista, Managing Editor of DemandGen Report. "That's why our 2012 Sales And Marketing Integration Award winners demonstrate a unique ability to tie technology integrations to their overall demand generation processes." This special report profiles winners for their accomplishments integrating the following criteria:
•Data- Enhanced data integration to provide sales and marketing with new visibility into prospect and customer touch points;
•Social- Managing and cultivating social communities to monitor conversations, refine marketing messaging and enable sales;

Targeting- Segmenting prospects and customers to provide relevant content based on pre-determined attributes, such as digital behavior and activity;
Online Events- Using online event and webinar platforms to enhance segmentation strategies, nurturing, scoring, data collection and application, as well as sales acceleration; and
Sales Enablement- Implementing tools and tactics to help marketing empower their companies' sales teams.
Managed Maintenance (MMI) is a Microsoft Dynamics CRM user that was in the market for a marketing automation solution that satisfied their functional requirements for marketing, while at the same time, provided an automated lead management process that allowed for lead tracking through to the CRM Opportunity entity. After implementing SalesFUSION, Managed Maintenance has seen a dramatic difference in audience segmentation allowing them to deliver high quality campaigns to the appropriate segments. MMI was recognized for their accomplishments in driving revenue through lead generation and management programs, and leveraging marketing automation technology to create more sophisticated and repeatable processes for success. Through MMI's partnership with SalesFUSION, a leading provider of marketing software automation, MMI developed processes that help them succeed in meeting revenue, brand recognition, and customer acquisition goals. With the integration of SalesFUSION, and a MS Dynamics CRM system, MMI succeeded in enhancing data integration, managing and cultivating relationships via social mediums, segmenting prospects and customers to receive relevant and useful content, and hosting on-line events. These accomplishments resulted in the ability of MMI's sales teams to drive revenue growth and profitability.
Knowing the importance of choosing the right systems and platforms was a trial and error process for MMI. Trish McLoughlin, Marketing Manager at MMI, states: "We tried several CRM and marketing automation companies before finally choosing SalesFUSION for marketing automation, and Microsoft Dynamics for our CRM system. Some were expensive, others were free, however, in the end we found a good mix of tools that were in line with our budget, and integrated together well to keep our marketing and sales strategy in alignment." Additionally, "Our B2B marketing strategy requires we utilize tools that allow us to analyze the wealth of digital information now at our fingertips, and develop lead generation and nurturing tactics that continue to provide our sales teams with a healthy pipeline of qualified prospects."
MMI's Sales & Marketing processes allow MMI to engage with other companies looking for solutions like the ones offered by MMI; and ultimately help them attain their own service revenue and contract management goals and objectives.
Said Kevin Miller, CMO of SalesFUSION; "MMI represents all that is right with marketing automation solutions today. The team at MMI, led by Patricia McLoughlin, did a fantastic job with the pre-built integration between SalesFUSION and Microsoft CRM. They truly engaged with Sales in a manner that has been beneficial to both sides".
SalesFUSION offers an integrated, Cloud-based SaaS marketing automation solution that is pre-integrated to Microsoft Dynamics CRM.
About SalesFUSION
SalesFUSION 360 provides software that accelerates revenue by connecting sales and marketing with prospects at the moment they are ready to buy. This is made possible through the SalesFusion 360™ suite, which complements Sales Force Automation applications by adding an on-demand enterprise lead management service. SalesFUSION 360 increases lead quantity, lead quality, and revenue conversion rates by integrating and automating the lead management process. For more information, visit http://www.salesfusion.com.