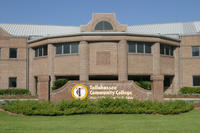 Tallahassee, FL (PRWEB) July 18, 2012
Faculty and students from Tallahassee Community College's computer literacy program were recently named a regional winner in Certiport's Internet and Core Computing Certification (IC3 ) World Cup.
TCC was regional winner for the Americas, joining regional honorees from Asia Pacific and Europe/Middle East/Africa.
TCC qualified for the Americas regional award by virtue of claiming the sector regional prize in the post-secondary education category. TCC was picked over three other sector regional nominees – Louisville Eastern Eagles, primary and secondary education; Computer Learning Centers Boricua (Puerto Rico), corporate; and Sierra Nevada Office Assistants (workforce development and/or government).
In an effort to help TCC students become more competitive in their pursuit of future options, the computer literacy faculty redesigned CGS1060 (Computer and Internet Literacy) to include student access to an industry recognized certification – IC3 . To earn the credential, a student must pass three separate exams - computing fundamentals, key applications, and living online.
During the second year of using the IC3 certification as the basis for the course, program chair Margaret Cooksey wanted to see how competitive TCC's program is compared to others worldwide.
Cooksey enrolled TCC in the IC3 World Cup, a competition that allows teams to compete for recognition in a worldwide arena. TCC's entry, the TCC Flying High Eagles, came away with the regional award in its very first year of participation.
Entrants earn points by having team members successfully complete any of the three IC3 exams. Additional points are awarded to team members who pass all three exams and become IC3 certified.
"Faculty members Mona Hamilton and Margaret Cooksey are the brains behind the course redesign which has been highly successful," said Kate Stewart, Dean of Technology and Professional Programs. "Students who earn a credential are proud to have a professional certification that demonstrates their computer literacy skills.
"Lots of creative work went into working with vendors to package test vouchers with the student textbook making this a cost effective opportunity for students. It's one of the best deals in town!"
Students also had access to practice lab times to help them prepare for their exams. Adjunct instructors Symin Massoudi and Chuck Sanders worked diligently to arrange for proctored lab times to facilitate student access.
"It's been a total team effort," added Stewart, "and we now have a World Cup victory to once again show the power of working together – students win, faculty and staff win, as do the employers of TCC students."