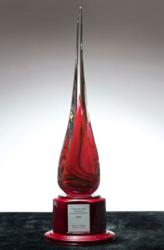 Trefethen's operations and business philosophy best mirror BRIT's core principles of conservation, sustainability, and wise stewardship of the land." said Dr. Sy Sohmer, BRIT's president and director.
Fort Worth, TX (PRWEB) July 17, 2012
The Botanical Research Institute of Texas (BRIT®) announced today that Trefethen Family Vineyards of Napa Valley, California, is its 2012 International Award of Excellence in Sustainable Winegrowing recipient. The award, the only international award of its kind, judges winegrowers for their innovative sustainable practices in the categories of air, water, and land in both winegrowing and winemaking; social responsibility practices; and wine taste. Specific notable Trefethen programs include: stormwater management, waste water recycling and reuse, wetlands restoration and management, natural pest control, solar energy, employee health and education programs, use of soy inks on bottle labels, and innovative use of electric vehicles and irrigation pumps.
"Trefethan's outstanding sustainable programs show a commitment to the land, the local community, the wine industry, and to its market," said Dwight Cumming, BRIT's sustainable winegrowing judging committee chairman. "This year's competition was strong; however, Trefethen gained the edge with its innovative sustainable practices, its plan for continual improvement, and the extraordinary quality of their wines."
The wine sample accompanying the Trefethen application was its 2008 Dragon's Tooth (Wine Enthusiast 94 rating). The wine is a Malbec-based blend and comes from the Trefethen's rockiest estate vineyard blocks and thus creates a rich and luscious sample from the superior soils and environment surrounding the vines.
"Sustainability and commitment to the environment while making the finest wines possible has always been our passion at Trefethen," says John Trefethen, winery owner. "Receiving this top international honor reinforces our commitment."
"Trefethen's operations and business philosophy best mirror BRIT's core principles of conservation, sustainability, and wise stewardship of the land," said Dr. S. H. Sohmer, BRIT's president and director. "We are very proud to bestow our international award to such a progressive winery."
Presentation of BRIT's International Award of Excellence in Sustainable Winegrowing will be made at BRIT's sixth annual Fête du Vin Wine Dinner and Auction on Saturday, October 6, 2012, at the Fort Worth Club in downtown Fort Worth, Texas.
Award recipients receive BRIT's Sustainable Winegrowing glass sculpture and the right to use BRIT's sustainable winegrowing logo both in print and electronic formats.
Competition for BRIT's 2012 award began March 30, when wineries from around the world submitted their applications which documented their sustainable programs relating to environmental, economic, and social aspects of winegrowing and included their wine samples.
Recently, BRIT joined FIVS, the international federation of wine, beer and spirits, to show its global commitment to the wine industry and raise awareness of the Institute's international sustainable winegrowing competition.
About BRIT
Founded in 1987, the Botanical Research Institute of Texas (BRIT®) based in Fort Worth, Texas, is an international plant research and learning center focused on conservation, knowledge sharing, and studying the diversity of plant life. BRIT conducts extensive global research, including major projects in Texas, Europe, Peru, and the Pacific Islands. In the last 10 years, BRIT scientists have located and described scores of species previously unknown to science. BRIT's herbarium is among the largest in the United States and is the largest U.S. herbarium not part of a university, botanical garden, or broader natural history museum.
BRIT presents two annual awards: the International Award of Excellence in Conservation, which was presented in April, 2012 to businessman and conservationist Ted Turner, and the International Award of Excellence in Sustainable Winegrowing, which is presented in October and recognizes leaders in sustainable practice throughout the wine industry.
In the spring of 2011, BRIT moved into its new, US Green Building Council LEED (Leadership in Energy and Environmental Design) Platinum-certified headquarters located in the Fort Worth Cultural District. For more information, visit http://www.brit.org.
About Trefethen Family Vineyards
In 1968, Eugene and Catherine Trefethen purchased seven farms surrounding a magnificent, but run-down, 19th-century winery in southern Napa Valley and created Trefethen Family Vineyards. The couple's intention was to sell all their grapes, but their son John had other ideas. In 1973, aided by his new bride Janet, John produced Trefethen Vineyards' first commercial wine. Just three years later, the winery's 1976 Chardonnay earned "Best Chardonnay in the World" honors at the 1979 Gault Millau World Wine Olympics in Paris.
True to the family's vision of creating an acclaimed wine estate, they have never purchased outside grapes and are leaders in sustainable winegrowing. Today, the Trefethen family's third generation, Loren and Hailey, assist their parents in continuing the family tradition of passion for the land, its people, and the art of crafting exceptional Napa Valley wines.