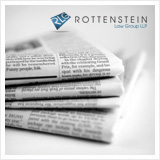 New York, NY (PRWEB) July 17, 2012
Johnson & Johnson has agreed to create a board-level group "to oversee subsidiaries' compliance with regulatory rules and to adopt updated risk-management policies," according to a July 11, 2012, Bloomberg article. Creating this board group is one of the terms of Johnson & Johnson's tentative agreement to settle claims filed against the company's directors in federal court (In re Johnson & Johnson Derivative Litigation, 10-cv-2033, U.S. District Court, District New Jersey (Trenton)), the Bloomberg article reports. According to attorneys representing the shareholders in that litigation, this change to Johnson & Johnson's board structure should put an end to the company's "decentralized approach to compliance and quality control," which "resulted in a lack of accountability, a structural excuse for plausible deniability among senior management and J&J's board, and ultimately, a recipe for disaster," the Bloomberg article says. "Critical information will no longer be confined to the level of J&J subsidiaries."
Johnson & Johnson subsidiaries paid millions in penalties in 2010 to resolve charges filed against the company for illegally marketing the epilepsy drug Topamax for unapproved uses, according to a July 12, 2012, Associated Press article. Later in 2010, the AP article reports, the FDA ordered another Johnson & Johnson subsidiary, DePuy Orthopedics, to stop selling a hip replacement system it was marketing illegally.
Earlier this year, another Johnson & Johnson subsidiary, Ethicon, announced its plans to stop selling four of its vaginal mesh products in a letter filed with the U.S. District Court for the Southern District of West Virginia, where U.S. District Judge Joseph R. Goodwin is presiding over the pre-trial proceedings of a multi-district litigation (MDL No. 2327) consolidating hundreds of cases against Ethicon for surgical mesh injuries, according to a June 5, 2012, Businessweek article.
As a law firm representing women in the vaginal mesh cases against the Johnson & Johnson subsidiary Ethicon (MDL No. 2327), the Rottenstein Law Group is relieved to learn of Johnson & Johnson's plans to improve oversight of the company's subsidiaries.
Anyone seeking more information about vaginal mesh can visit the Rottenstein Law Group's Transvaginal Mesh Lawsuit Information Page at the firm's website. The site has vital information about the dangers of this medical device, along with easy-to-use social media features that allow for easy sharing on sites like Facebook and Twitter. Visitors are also encouraged to link to their own Web sites and blogs in order to spread the word about defective medical products and dangerous drugs.
About the Rottenstein Law Group
The Rottenstein Law Group is a New York-based law firm that represents clients in mass tort actions. The firm was founded by Rochelle Rottenstein, a lawyer with over two decades of experience in compassionate representation of clients in consumer product injury, mass tort, and class action law suits. For more information, please visit http://www.rotlaw.com, or call (888) 9-ROT-LAW. Attorney advertising. Prior results do not guarantee a similar outcome.