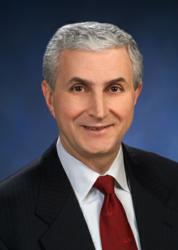 Bethlehem, Penn. (PRWEB) July 16, 2012
Presbyterian Senior Living (PSL), today announced the appointment of John Paul ("JP") Marosy to Executive Director of everyday LIFE, a Program of All-Inclusive Care (PACE) for the elderly. Marosy will lead Presbyterian Senior Living's efforts to expand the PACE program across Pennsylvania's Lehigh Valley, providing managed, affordable healthcare for eligible seniors who wish to continue living at home.
With more than 30 years in the field of aging, Mr. Marosy is widely recognized as an expert in the industry. Previous positions have included executive director of VNA Private Care; CEO of Visiting Nurse Affiliates of Cambridge; and, CEO of the Home Care Association of New Jersey. Marosy is the author of two books: Elder Care: A Six Step Guide to Balancing Work and Family, and A Manager's Guide to Balancing Elder Care and Work. Most recently, Marosy led a start-up division within the LoJack Corporation called SafetyNet, which provides a service to help locate individuals who might wander due to cognitive disabilities.
JP will enable the everyday LIFE program to better serve seniors and their families in the Lehigh Valley. "We are pleased to welcome him to the Presbyterian Senior Living family," said Steve Proctor, CEO of PSL.
Everyday LIFE is a national program, sponsored by Presbyterian Senior Living in the Lehigh Valley, designed to enable frail seniors who are medically eligible for skilled nursing care to remain in the comfort of their homes. The program is an alternative to nursing home placement, and provides cost-free primary and nursing care for those who qualify financially, in addition to meals, socialization, therapy and social support services in the member's home or at the Bethlehem, PA everyday LIFE center.
"The LIFE program is truly the gold standard in senior care today, and serves as a model for person -centered care across the entire healthcare industry," said Marosy. "I look forward to helping grow this program across the Lehigh Valley, providing seniors with the comprehensive and proactive care they need, keeping them out of hospitals and nursing homes for as long as possible."
The program promotes a holistic approach to complete wellness, providing proactive care that addresses all facets of an individual's life. This program serves Lehigh and Northampton counties, and is one of 15 licensed LIFE programs in Pennsylvania. Everyday LIFE is operated, in part, through the state Department of Public Welfare and funded through the U.S. Centers for Medicare and Medicaid Services.
To learn more about the everyday LIFE program in the Lehigh Valley, please visit http://www.everydaylifecenters.org.
# # #
About Presbyterian Senior Living
Presbyterian Senior Living is a not-for-profit organization, providing retirement and senior care services for more than 85 years. Headquartered in Dillsburg, Pennsylvania, Presbyterian Senior Living provides services to more than 5,400 seniors in 25 locations in the mid-Atlantic region of Pennsylvania, Maryland, Ohio and Delaware.
Media Contact:
Jessica Callahan
717-401-4130
JCallahan(at)abelcommunications(dot)com