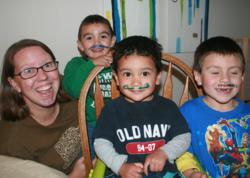 The RaiseAChild.US campaigns have significantly increased the number of people we are training for certification.
Los Angeles, CA (PRWEB) July 16, 2012
According to the U.S. Department of Health & Human Services' Administration for Children & Families, over 107,000 children in the foster care system are available and waiting to be adopted. Beyond that number, there are 300,000 more children in need of immediate foster placement. Certified families are in short supply.
Today, Southern California Foster Family and Adoption Agency (SCFFAA) signed on as "Community Advocate" partner of RaiseAChild.US, a non-profit organization that encourages LGBT people to build their families through fostering and adoption. Its campaigns recruit and support prospective LGBT parents while putting images of LGBT families into public spaces through outdoor advertising and PSAs on television and radio.
Over the past 18 months, RaiseAChild.US has run three campaigns in Los Angeles, engaging over 350 prospective parents, with 250 attending recruitment events. SCFFAA is now training and certifying many of these recruits.
Sylvia Fogelman, SCFFAA's President & CEO, is proud of the partnership. "The RaiseAChild.US campaigns have significantly increased the number of people we are training for certification. We have worked with LGBT prospective parents for decades and we are certain that this partnership will further accelerate our active recruitment success."
"SCFFAA gets it right across the board with LGBT parents," according to John Ireland, Co-founder of RaiseAChild.US, who built his own family through fostering and adopting through the agency in 2005. "Its marketing materials have long reflected our families, but most important, SCFFAA has a deep cultural competence that makes for a smooth and supportive experience."
"The LGBT community has proven to be a reliable source of safe and loving homes," says Robyn Harrod, Adoption Program Director at SCFFAA. "We are excited to work with RaiseAChild.US to find the foster and adoptive parents these kids desperately need."
RaiseAChild.US is working closely with Human Rights Campaign Foundation's "All Children—All Families" (ACAF) initiative, which provides professional training and technical assistance for implementing inclusive policies and best practices for working with LGBT foster-adoptive parents. SCFFAA earned its seal in 2009 and has been a leader among agencies nationwide in attaining LGBT cultural competency.
"Not only has the staff of SCFFAA been on the forefront in helping LGBT families, but they've provided guidance and leadership to other agencies in the region," says Ellen Kahn, Family Project Director for Human Rights Campaign. "Their excellent work will result in more children being placed with permanent, loving families."
To date, ACAF has over 50 participating agencies across the country and has awarded 18 seals of recognition. Last year HRC launched a "50 state strategy," with the goal of securing at least one ACAF-recognized adoption agency dedicated to working with LGBT families in every state. More information about the initiative can be found at http://www.hrc.org/acaf