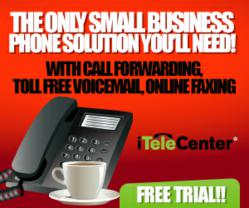 Piscataway, NJ (PRWEB) July 18, 2012
iTeleCenter announced the release of new eye-catching, niche-specific banner ads for its resellers and affiliates. These ads will be used for promoting sales of iTeleCenter's virtual phone system to small and home-based businesses.
The banner ads are available in a variety of sizes including 160x600 skyscraper, 300x250 rectangle, and 728x90 leaderboard configurations. They are provided in both flash and animated GIF format - the flash being very catchy with text floating through the ads and the GIF ads offering more static text with a flashing free trial image.
The ads are made available to iTeleCenter resellers and affiliates via a reseller back office. The HTML code is readily available for the user to grab and place on any website they choose.
iTeleCenter offers a simple commission structure to resellers and affiliates. The affiliate program is free to join. Each affiliate is assigned an ID which is used to identify sales that are credited to them. The reseller program is a paid program which includes more personalization of the sales site and allows resellers the ability to display their own logo on the page.
Interested affiliates can find out more at http://www.itelecenter.com/AffiliateBenefits.aspx.
About iTeleCenter
iTeleCenter was founded in 1992 by entrepreneur Paul Champaneria who wanted to build a company that catered to the needs of virtual companies, direct salespeople, affiliate marketers, real estate professionals, and all forms of home-based or small businesses. iTeleCenter is a virtual phone system that provides individuals with the ability to utilize toll free phone numbers, locally based numbers, or vanity numbers, with call forwarding and voicemail that make professional life a little easier. With the best in customer care and service, along with the latest and most innovative features, it's a must have for professionals who want to compete on a regional or national level, whether it's a one-man operation or a million-dollar corporation.