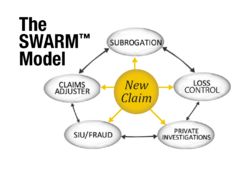 Knowing your accident, claimant, and circumstances from hour one fits the vision of Contego Recovery, LLC. The immediate information obtained by the SWARM™ limits the cost of the claim and increases our chance for recovery. - Richard Wersinger
Fort Lauderdale, FL (PRWEB) July 18, 2012
Wersinger has many years of experience in the workers' compensation field; he has worked with small third party administrators and multi-billion dollar insurance companies. Mr. Wersinger is an expert in subrogation practices. His experience includes lost time adjusting and field investigation. In the role of field adjuster, he embraced the concept of a team that would not only be on the scene of an accident with the claimant and insured, but would be proactive throughout the entire claim process, final settlement, and eventual recovery.
Linda Webb, President of Contego Services Group, LLC, feels that Mr. Wersinger's promotion will help Contego Recovery, LLC to continue its growth. Webb states, "Richard's in-depth knowledge in subrogation makes him one of the leading experts in this field. He is truly an asset to our team and organization."
Wersinger is a perfect fit for Contego Recovery, LLC. Known for its SWARM ™ service model, which stands for swift working assessment with rapid methodology, Contego Services Group, LLC has pioneered a revolutionary approach to claims management. Under the SWARM™ multiple departments proactively communicate to reduce both the cycle and cost of an insurance claim. In Wersinger's words, "Knowing your accident, claimant, and circumstances from hour one fits the vision of Contego Recovery, LLC. The immediate information obtained by the SWARM™ limits the cost of the claim and increases our chance for recovery."
Mr. Wersinger has already made positive changes since taking this leadership role. Contego Recovery has become a member of Arbitration Forums, Inc., an organization that provides recovery and subrogation dispute resolution services to its members. Contego Recovery's membership allows them to limit costs and helps to eliminate attorney's fees, allowing Contego to more efficiently collect money owed. This process results in a full recovery in a very short period of time. Mr. Wersinger stated, "We are excited to provide this money-saving tool to our clients. When you couple these innovative services along with our experience it is easy to see why we can meet the full needs of our clients."
Contego Services Group, LLC provides innovative insurance services and cost containment solutions. For additional information on Contego Services Group please visit http://www.ContegoServicesGroup.com or contact Jessica Custer at 954-556-1616.
Media Contact:
Jessica Custer
954-556-1616
http://www.ContegoServicesGroup.com
JCuster(at)ContegoGroup(dot)com
###