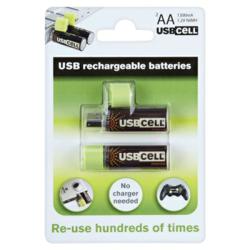 "The USBCELL is a great alternative to traditional rechargeable batteries. They are easy to use and are much more flexible when they need to be recharged," says Sohail Hassan, President and CEO of One Stop Green.
Houston, TX (PRWEB) July 16, 2012
One Stop Green now carries the revolutionary USBCELL. The USBCELL is a rechargeable AA sized battery that charges from any USB port. In the past, rechargeable batteries required a special battery charger, however the USBCELL can plug into any USB port on computers, wall chargers, in cars, or anywhere to recharge and power any electronic device.
The USBCELL is ideal for use around the home and office replacing traditional AA batteries that are commonly used in small electronics. When the batteries begin to go low on power, they can be taken out and quickly re-charged in a USB port. The USBCELL fits well into many wireless or portable computer accessories, such as wireless mice, wireless keyboards, and folding keyboards, and can be charged through the computer when the mouse or keyboard is not in use. The AA size makes it compatible with many small electronics, including cameras, small speakers, radios, and other devices.
USBCELLs are the ideal eco-friendly gift and are perfect for promotional or corporate giveaways. Use them as a practical gift for employees, customers, clients, guests or even conference delegates. USBCELLs were successfully handed out to the delegates at the Clinton Global Initiative meeting to promote awareness of environmental and sustainability issues. Customized USBCELLs offer excellent brand visibility when charged in office or home computers and its unique and innovative design adds a WOW factor that draws attention and curiosity wherever presented. Stop disposing of AA batteries and get the permanent, green battery solution that is the USBCELL.
One Stop Green, LLC facilitates environmentally friendly improvements to residential and
commercial properties through distribution of green, energy efficient products and services. They
offer every product needed for sustainable energy independence enabling homeowners, businesses and commercial property owners to master their usage by reducing waste and implementing efficient energy consumption methods. Their goal is to provide user friendly and practical long-term solutions to existing inefficiencies and their carefully selected products and professional installers offer a higher level of satisfaction and service for their customers.
Contact:
Nathan Kaufman
http://www.OneStopGreen.com
P: 877.449.9110|O: 713.541.2739|C: 210.846.5900
###