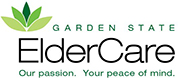 South Orange, NJ (PRWEB) July 18, 2012
According to the US Administration on Aging, elderly individuals represented 12.9% of the population in 2009. In less than 20 years from today, this number is expected to jump to 19%, with 72.1 million people over the age of 65. New Jersey is expected to closely follow this trend. As the older population increases faster than ever, more people will need dedicated, dependable and compassionate care specialists.
"Navigating this process can be confusing and emotionally trying for the elderly and their families," says Kerry Boland of Garden State ElderCare. "Having a knowledgeable resource to assist in guiding the process to assure the best possible counseling in senior health care is not as easy as it might seem," Boland added.
As with any important purchase, it is always a good idea to talk with friends, neighbors, and your local area Agency on Aging to learn more about the home health care agencies in your community. In looking for a home health care provider, the Department of Health and Human Services provides useful questionnaires to ensure home health care providers meet the minimum credentials of quality care. Use this link for more details: (http://www.eldercare.gov).
Kerry Boland, a registered nurse (RN), along with partner Ethan Kassel, a licensed clinical social worker (LCSW), is celebrating the fifth anniversary of Garden State ElderCare. The founders have highlighted their concerns around many of the new senior care providers popping up around the state. Their firm is built on a collaborative client, family and physician approach to develop an individualized Plan of Care.
"There is strong evidence that the elderly population in New Jersey is already expanding rapidly. With this trend the pool of qualified care providers is shrinking" Kassel said.
A recent survey on business opportunities with the most profit potential in 2012 highlighted senior care as the number 1 profit opportunity (http://www.bizfinance.about.com). New companies including national providers with non-clinical qualifications are challenging the consumer to follow prescribed guidelines in sourcing a satisfactory provider.
In light of these trends, experts are referring to elder care as the nation's next health crisis – and urging advanced planning and acknowledgement of the situation at hand. Faced with such odds, families may wish to hire a geriatric care manager (http://www.caremanager.org) to discuss the details of their individual situation and determine the best course of action for their loved ones.
For more information contact:
Martina Molner
Email : martina(at)lauterback(dot)com
Phone: 973-723-6297