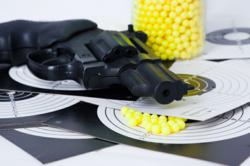 Cincinnati, OH (PRWEB) July 18, 2012
3D Engineering Solutions announced the recent completion of a reverse engineering project that created CAD models for airsoft guns once manufactured abroad. When the gun maker learned that its offshore manufacturer was using its proprietary tooling to "back door sell" guns made with its equipment, it closed down operations and moved production back to the U.S. Because no CAD models or prints of the gun parts were obtainable, the gun company employed 3D Engineering Solutions' reverse engineering services to digitize the assembly of air gun parts, making manufacturing once again possible. The completion of this project comes at a time when 3D Engineering Solutions Vice President of Operations Rob Glassburn says, "An increasing amount of companies are reporting problems with the integrity of offshore manufacturing."
Upon moving its production abroad, the airsoft gun company paid for custom injection molding tooling for each of the gun components. Tooling cost for each component ranges between $50,000 and $200,000. "It's a big capital investment and another operation was skirting this investment," said Glassburn. "That's the real theft—the theft of the use of tools. Parts are cheap to make once you have tools."
To acquire the correct air gun part dimensions, 3D Engineering did 3D laser scanning of the different components. They then applied what Glassburn calls "'design intuitiveness.' There's more to reverse engineering a part than just copying the geometry," Glassburn said. "We have extensive experience and lent our expertise to give our client exactly what they wanted at the lowest cost."
The air gun maker now employs 300 U.S. workers as domestic manufacturing is in full operation.
About 3D Engineering Solutions:
Customers rely on 3D Engineering Solutions to design process tooling and fixtures for the automotive, industrial, green energy, nuclear and aerospace industries, using engineering tools such as Siemens advanced NX7.5 Mach 3 CAD platform. Leading edge point cloud software, InnovMetrics PolyWorks, allows a common software platform for collecting data across all of Faro laser-based data collection platforms. In addition to reverse engineering services, 3D Engineering Solutions is registered with the State of Ohio for Professional Engineering and ISO 17025 Certified for third party inspection. In their seventh year of operation, the company maintains a state-of-the-art, climate controlled metrology lab, servicing the Midwest OEM needs for 3D laser scanning, data collection, 3D CAD modeling, FAI / PPAP inspection, and reverse engineering services. 3D Engineering Solutions brings more than 100 years of collective experience to every engineering project. For more information about reverse engineering services or 3D scanning service or general information about 3D Engineering Solutions, call 513-771-7710 or visit the company's website: http://www.3D-engineering.net.