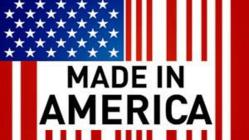 Concord, NH (PRWEB) July 16, 2012
Capital Craftsman & Romance Jewelers, a distinctive fine jewelry and handcraft boutique in Concord, New Hampshire, recently announced their upcoming Celebrate America Sale, a sales event celebrating the continuing legacy of American craftsmanship. From July 19-21, 2012, during the 38th Annual Market Days Festival, shoppers will save 50 percent on select pieces of jewelry, pottery and Simon Pearce giftware.
In addition to these savings, Capital Craftsman & Romance Jewelers will host an in-store raffle, giving guests the opportunity to win a variety of prizes with no purchase necessary. The owners suggest that the Celebrate America sale gives shoppers the perfect opportunity to pre-buy their holiday gifts, avoiding crowds and demand in later months. During the Celebrate America sale, refreshments will be served and store hours will be extended from 9:00 a.m. until 9:00 p.m.
The store's mission in offering American-made crafts from local artists is to support U.S. job growth. According to a Good Morning American newscast, if each consumer spent $64.00 on American made goods, they would create 200,000 new jobs. In tough economic times, Capital Craftsman & Romance Jewelers believes that purchasing made in America gifts can make a big difference and send a powerful message. Additionally, locally made handicraft pieces inspire purchasers to support the local community of artists and skilled craftsmen.
Since 1979, Capital Craftsman & Romance Jewelers has offered the Concord region handcrafted work from thousands of local artists. Their selection includes over 800 American-made pieces, including pottery, woodworking, glassware, fabrics, and metals. The local demand for handcrafted jewelry also led to the establishment of the Romance Jewelers section of the store, offering an assortment of traditional and contemporary handcrafted jewelry pieces. For further information about the Celebrate America sale and all Capital Craftsman & Romance Jewelers products and services, visit their website at http://www.capitolcraftsman.com.
About the company:
Capital Craftsman & Romance Jewelers has been around Concord since 1979 representing thousands of crafts people and their fine American Made products. American handcrafts of pottery, wood, pewter, glass, handbags, jewelry and gifts of every kind. Their Romance Jewelers section has a dazzling array of traditional and contemporary fine jewelry. For more information visit their website at http://www.capitolcraftsman.com.