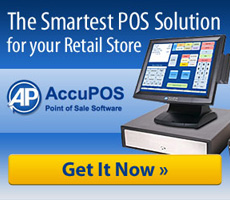 This is one of the best POS solutions, especially if you desire integration with your accounting software.
Los Angeles, CA (PRWEB) July 17, 2012
Over the past few months, TopTenReviews.com has been updating its website to keep their rankings up-to-date in key technology industries. And now one of their most popular categories, Point of Sale Systems, has named a new winner. The category is newly conquered by AccuPOS Point of Sale as the #1 recommended Point of Sale Software system on the market. AccuPOS holds an impressive score of 9.88 out of a perfect 10. See the Top Ten Point of Sale Companies.
According to the POS Software opinion leader, all major Point of Sale companies were evaluated and judged by these features:

Terminals & Peripherals
POS Software
After Purchase Care
Mobile & Wireless Technology
AccuPOS was in fact awarded perfect scores in a number of these categories, including Terminals & Peripherals, After Purchase Care and Mobile & Wireless Technology. It should be noted that no other company scored perfect tens in any three categories.
"Where can I see details of the business?" you might ask. TopTenReviews.com justifies all of its rankings with individual company reviews. Each company has a custom profile page along with its overall rank; to show exactly how they reached their score. For example, in the AccuPOS Software profile, TopTenReviews.com goes on to mention:
"This is one of the best POS solutions, especially if you desire integration with your accounting software. AccuPOS is technologically progressive and demonstrates this quality with its Android-compatible software. If you enjoy the powerful accounting capabilities of your accounting software, then AccuPOS is an excellent choice for POS software. "
Why did AccuPOS' mobile software get a perfect score? TopTenReviews considered the AccuPOS Android POS Software as a "forward-thinking option for restaurants that desire to provide fast tableside service". Further stating that AccuPOS also requires minimal training, as well as the 24/7 emergency support that distinguishes them from its competitors.
TopTenReviews values the large variety of available versions, as the five versions of AccuPOS software provide a wide range of capabilities, from gift card processing to splitting checks and processing EBT. No features were left untouched by the end of the impressively thorough reviews.
In conclusion, it can be said that TopTenReviews appropriately awarded AccuPOS as the best POS system with the most bang for your buck, thanks to its unmatched attention to quality and AccuPOS' simplification of almost every step of day-to-day business operations. It's no mystery why thousands of AccuPOS users are currently having success growing their bottom line with AccuPOS Point of Sale. If you are a business owner and interested in being home in time for dinner, get in touch with AccuPOS Point of Sale at (800) 906-5010 or Contact Us today via the AccuPOS website to hear more about this award winning Point of Sale solution.