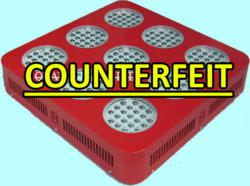 The fooled customer will be lucky if they get even half the performance out of the reverse-engineered X-Lens, low-BIN LEDs, and inferior cooling methods. You can't expect quality when these sellers rely on lies for marketing.
(PRWEB) July 18, 2012
Counterfeit LED Grow Light resellers in the UK have recently changed the LED Grow Light industry from a place where dishonest claims like "a 90W UFO can replace a 400W HPS", and twisted truths such as "LEDs never lose intensity" are now just a minor offense.
Leading LED Grow Light manufacturer Hydro Grow, secured a huge portion of the retail LED Grow Light market with the announcement of their Penetrator-X "Extreme" line in June 2011. These models were true marvels, differing in every way from all other LED Grow Lights available. Due to their huge popularity, "look-alike" products began appearing on the market only months after the Penetrator-X release, having LEDs arranged in clusters and sharing a single piece lens with the promise of a modular design. As of 2012 however, copy-cat sellers have taken a far more aggressive and less ethical approach, as they produce near replicas of Hydro Grow's US-patented designs.
In an interview with the CEO of Hydro Grow, Cammie Mckenzie she commented, "2012 has been an annoyance for us with low-quality counterfeit versions of our products hitting the market. What saddens us most is the lack of respect, moral integrity, and business ethics shown by these counterfeit resellers, who are often proud they lie to customers by telling them they're selling legitimate Hydro Grow products. An interesting fact is the only country providing us with any issues towards ceasing the sale of counterfeit lights, is the UK. All other resellers in alternate countries have ceased after being contacted by our attorneys."
In the UK there are several major offenders against Hydro Grow, who have refused after numerous requests to stop selling counterfeit Hydro Grow products. The sites post photos taken against copyright law from the Hydro Grow website, showing their discontinued X1 (red casing) design. The lights in the photos also show Hydro Grow's logo, which is a registered trademark (#4,111,277), while the product descriptions say "Penetrator-PRO", a name developed and trademarked by Hydro Grow. Sellers also imply to end users they are using Hydro Grow's Quantum LED Balanced spectrum, which the company is widely known for. The sites confuse consumers by using trademarks owned by Hydro Grow while displaying copyrighted Hydro Grow product photos on its pages, and even linking out to PRWeb press releases issued by Hydro Grow, implying to any viewer they are a reseller of genuine Hydro Grow products.
Mckenzie stated, "Numerous customers have contacted us saying they were scammed by fraudulent sellers of counterfeit LED Grow Lights. They have even provided us email confirmation that company owners have been telling customers they are selling legitimate Hydro Grow products, when we have no association with these companies whatsoever. We advise these customers to contact the UK Trading Standards Institute and file a formal complaint, as well as a chargeback with their credit card providers since the sellers are falsely misrepresenting their products as our own."
According to Mckenzie, counterfeit sellers make the big promise of delivering Hydro Grow performance, parts and quality, yet fail to include any of the quality components contained in a true Hydro Grow product. She stated "The LEDs used in these cheaper replicas are low-BIN, which means low lumen output with high power draw, whereas Hydro Grow uses only the highest-BIN delivering up to double the output with the same power consumption. The counterfeits also lack high quality copper-core heat sinks and dual ball-bearing cooling fans, or a legitimate X2 lens. The fooled customer will be lucky if they get half the performance out of the reverse-engineered X-Lens, low-BIN LEDs, and inferior cooling methods. You can't expect quality when these sellers rely on lies and cheap prices for marketing".
According to Mckenzie, the only way to presently verify that you are purchasing a legitimate Hydro Grow product is to make sure it is gunmetal in color, has the words "Extreme LED" and "X2" cut into the sides of the casing, and is sold by one of the authorized retailers shown on the Hydro Grow website.
About Hydro Grow:
Hydro Grow, the leading provider of high-efficiency LED horticultural lighting solutions for commercial growers and agri-businesses, enables horticulturalists to reduce energy consumption over 50% while increasing operational efficiencies, crop yields, and hastening growth cycles. Hydro Grow offers third-party, data-proven solutions for greenhouses, indoor farms, research centers, and Universities, which may be eligible for energy efficiency subsidies from PG&E and other utilities. The company's 3,000+ commercial and private customers include the USDA, DOE, and multiple Universities. Headquartered in Reno, Nevada, Hydro Grow is privately owned and operated. For more information call 1-855-445-3348 or visit http://www.hydrogrowled.com.